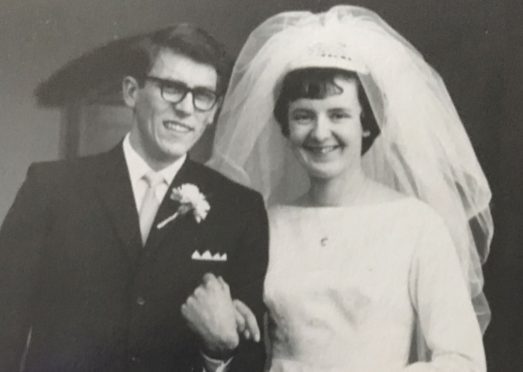 A north-east couple celebrated their golden wedding anniversary with a Hogmanay party to remember.
Harold and Eileen Smith wed at Fraserburgh's South Church on December 31, 1966 surrounded by their friends and loved ones.
And to mark their 50th anniversary, Mr Smith secretly arranged to renew his vows with the love of his life.
The 72-year-old spent four months contacting everyone he could who attended the wedding in 1966 to see if they could make a surprise appearance.
Last night 69-year-old Mrs Smith said she was blown away by the unique Hogmanay celebrations.
"It was a complete surprise for me – I knew nothing about it. My daughter Jennifer still stays in Fraserburgh and I stayed with her on the Friday night before the anniversary," Mrs Smith said.
"She said her dad was organising something. We renewed our vows at the church where we were married and then we went for a meal with about 40 people. Around 15 of them had been at our wedding."
Retired meat salesman Mr Smith not only brought together more than a dozen of the couple's original wedding guests, but also resurrected life from the 1960s with displays of photos and facts from the time.
"I got such a surprise I could barely remember what we were doing – there were so many folk at the church.
"He kept it a secret for all that time with the family. He'd made up all these boards of what life was like in the 60s. He did so much work. My grandson was there and he told me he didn't know a lot of it."
The Turriff couple's three children, Jeff, Jennifer and Patrick, helped organise the surprise.
Jeff said: "Mum knew there was something up but didn't know what.
"Dad arranged for as many people as possible that had attended the original wedding to attend a service in the same church that they got married in and got the current minister to present a service where they renewed their wedding vows.
"It was really touching."
The couple's whirlwind celebrations came as millions of Scots were toasting Hogmanay across the country.
The Smiths' anniversary is on a day when many people reflect on the year gone by and look to the future with new commitments.
Mrs Smith said the only resolution newly-weds need for a long and happy marriage is a promise never to give up on one another.
She added: "We've always got on OK. Every one has ups and downs, you just have to get on with it.
"I think people give up too easily nowadays."