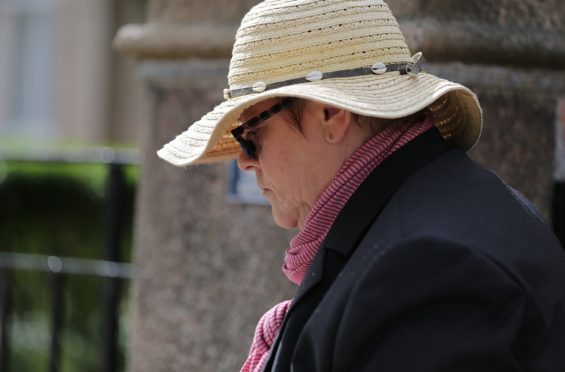 A viscount's former personal assistant escaped jail today after embezzling almost £23,000 from her employer.
Naomi Barrett, 53, went on a spending spree buying kitchen appliances and art works while working at Crimongate mansion in Aberdeenshire.
She also withdrew cash from Viscount Petersham's credit card while committing the crime last year.
Barrett, of Tithe Barn, Branscome, Devon, admitted the offence after she was charged and appeared in court for sentence today.
Ruaridh McAllister said the former employee had access to the company credit card as part of her role working for his business near Fraserburgh.
He said: "In December 2015 the complainer and the accused made a verbal agreement that she would live rent free at a property owned by the complainer."
The court heard that it was agreed that she could install a shower and two stoves.
Mr McAllister said: "In January 2016 the accused went to Aberdeenshire Fireplaces in Mintlaw and ordered the two stoves.
"She later paid for them using the company credit card.
"It wasn't until May 2016 that the complainer had a concern about possible financial irregularity on the credit card through the purchases that had been carried out."
The court heard that the business owner noticed a number of "unauthorised purchases" and Barrett was interviewed.
Mr McAllister said: "She admitted full responsibility and accepted that she had used the credit to purchase various items totalling up to the figure in the charge without the authorisation of the complainer."
The court heard that hundreds of pounds of cash had been withdrawn from ATMs on various occasions.
The credit card had also been used to buy the stoves and paintings from an art gallery in Banff.
Defence lawyer Stuart Flowerdew said his client had money to fully reimburse her former employer but had not approached him because their relationship was now "somewhat strained".
He said: "She was quite keen for the money to be paid at an early date."
Background reports prepared for the court stated that Barrett was not fit enough to carry out unpaid work in the community as part of her punishment due to health conditions.
Mr Flowerdew said his client had been assessed as being at low risk of offending and suggested that his client would benefit from assistance such as counselling.
Sheriff Andrew Miller told her: "You have pled guilty to this serious offence of embezzlement to the tune of almost £23,000 which you improperly obtained essentially from your employment by using a credit card which had been made available to you in order to meet legitimate expenses in connection with your work.
"And this offence was committed over a substantial period of time, over a year so its undoubtedly a serious matter Miss Barrett."
Sheriff Miller noted that Barrett, who lives with her mother, had a previous conviction from 2005 which also related to dishonesty connected to another job.
But he said he was persuaded not to impose a custodial sentence due to her "significant" health issues and the fact she was at low risk of reoffending.
Barrett was ordered to carry out a community payback order with an 18 month supervision order and a compensation requirement.
She was told to repay the embezzled cash by April 7 or face the possibility of going to jail.
Barrett refused to comment when she left court.
She previously admitted a charge of embezzling £22,973.00 while employed as the personal assistant of Viscount Petersham and CMG Events between February 2015 and April 2016.