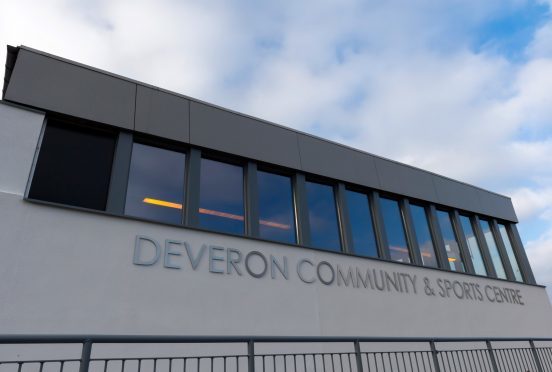 Vandals struck a multi-million pound sports facility just hours after it was opened to the public for the first time.
The Deveron Community and Sports Centre in Banff was launched last Saturday as part of a £12.5million commitment from Aberdeenshire Council to improve facilities in the town.
The centre, at Banff Academy, includes a climbing wall, sports hall and two squash courts. It also features a floodlit all-weather pitch, three tennis courts, a cycle track and a 400-metre running track.
But locals were shocked to discover that hooligans had already struck the centre just hours into its first day.
Graffiti had been drawn on the walls of a seating area inside the complex, and 14 plastic chairs at an outside viewing area were also left damaged.
It is understood all of the damage took place on Saturday.
Last night, users of the facility said they were "disappointed" by the vandalism.
Wendy Alexander was attending her induction to the gym on Thursday.
She said: "It's a great facility, a worthwhile addition to the town.
"My daughter even uses it.
"But it's disappointing to hear someone has already vandalised it – on the first day."
Glenda Allan has two young boys who attend classes at the centre.
She added: "The centre has been a great investment in the town.
"The local playgroup is already using it.
"It really is disgusting that people have vandalised it. We were discussing it at work today and the reaction from everyone has been the same.
"I hope it doesn't happen again."
Kevin Smith, who also has a son who uses the facilities, meanwhile branded the vandalism "pathetic".
"My whole family has been using it.
"We should have had something like this in Banff 20 years ago, so for people to vandalise it is pathetic, really. It's sad."
Aberdeenshire Council area manager Margaret-Jane Cardno said reaction to the facility opening had been positive.
"Everyone whom I have spoken to is looking forward to using the fantastic new facilities and I'm confident that the people of Banff will not allow this to take the shine off the opening," she added.
A spokeswoman for the police said a report had not yet been submitted by centre staff about the vandalism.