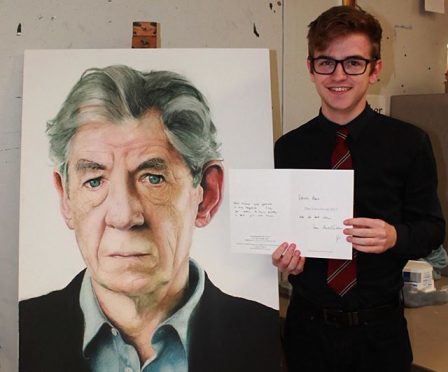 A north-east teenager has been left "overwhelmed" after the acclaimed actor, Sir Ian McKellen, wrote him a letter praising the quality of his work.
Steven Rae, a sixth-year pupil at Peterhead Academy, has always been interested in art and sat his advanced higher in the subject a year early.
As part of that effort, he created a portrait of an actor whom he described last night as "very influential".
The 18-year-old, who plans to study architecture in either Aberdeen or Dundee after he leaves school, never imagined he would get a response from the man who has starred in everything from The Lord of the Rings to Mr Holmes and the X-Men films.
But that is exactly what Sir Ian took time to do after finding out about Mr Rae's work.
Sir Ian wrote that he wished "all the best" to Steven in the future.
In his card, he added: "Even online, your portrait is very impressive."
Mr Rae depicted Sir Ian after being inspired by a high-resolution photograph of the 77-year-old actor which he found on the internet.
Last night, he said the note had "made his day".
And he added: "I also paint family members, but I like painting celebrities or people that are recognisable.
"
I chose Sir Ian because he's an influential figure and he's a great actor. I found the photo and just went for it.
"A teacher from the academy got in contact with his agent, and then I think he saw the photo on Twitter. I think that's how he came across it.
"I was overwhelmed when he got in contact. I was in such a good mood the whole day."
Friends and family have also been supportive of his talent and, as Mr Rae explained: "All my friends and family have been great about it.
He has since started another portrait – of his grandfather – which he hopes to enter into this year's Scottish Portrait Awards in May.