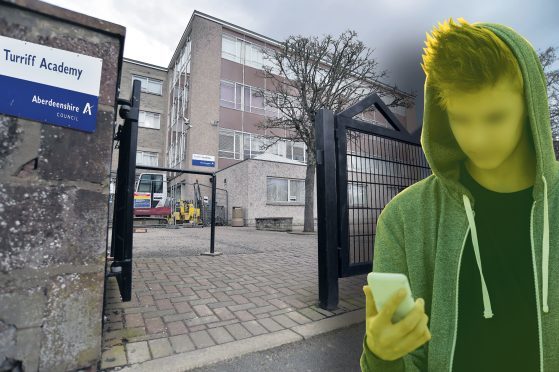 Parents are being urged to search their children's phones for footage of a "serious" incident at Turriff Academy.
A fight broke out in the playground of the school last week, involving at least two boys.
Fellow pupils, armed with their smartphones, are thought to have filmed the encounter, and shared it with friends over social media.
But in a desperate effort to prevent the film going viral – like a previous fight did last year – the school has asked parents to step in.
In her letter, head teacher Lee Menzies asked parents not to air their views about the incident over Facebook.
"Incidents of this nature, though rare, are always fully investigated and the youngsters involved have been dealt with through the school and Aberdeenshire Council's behaviour policies," she added.
"I have also held assemblies with all pupils to inform them that the incident has been dealt with and if they have any concerns should speak with their guidance teacher or year head.
"They have also been reminded of their responsibility with regard to social media and the negative impact of sharing materials such as this. I would appreciate if you could help to ensure that any video footage of this specific incident has been removed from your child's device.
"I would like to reassure you that as a school we aim to keep all our young people and staff safe from harm and continue to review current practices and procedures to help to reduce incidents of this nature."
A spokesman for Aberdeenshire Council said the authority was aware an incident had taken place at the school on March 9, but declined to comment further.
It is the second time such an incident has happened at the school.
Just weeks after a Cults Academy pupil was locked up for the death of classmate Bailey Gwynne, a clip of two boys was captured brawling outside Turriff Academy while pupils waited for their buses home.
The 30-second video showed one boy had a knife tucked into his trousers during the fight.
The culprit admitted assault and having a bladed weapon in public when he appeared in court last February, and was given a community payback order.
Yesterday, Mike Rawlins, a community councillor for Turriff, said he was confident the school would take the "necessary" steps to prevent further incidents.
"These things happen, and the academy works very closely with its parents, students and the police when necessary to minimise incidents of this nature," he added.
"It's unfortunate that we're in a society and age when people can publish stuff almost instantly.
"The police do patrols quite regularly. I haven't spoken to the academy myself, but the letter that has come out does say they have spoken to police. They are on hand should they need their eyes."
Local councillor Anne Robertson said young people needed to be aware of their actions and how they affected other people.
"I became aware of the incident on Friday and visited the school," she added.
"I've been assured that staff have dealt with it as quickly and as appropriately as they could – given the circumstances.
"The school has obviously felt that it had to ask people to work in partnership with them to minimise the impact of incidents like these. It's difficult to control people filming these things, however.
"Young people today have access appliances that gives them access to social media and that can be good, on one hand. But it can be used in ways – like this – that doesn't have such a positive effect. I don't know how we stop that, other than working with them and trying to make them aware of the impact of their actions."