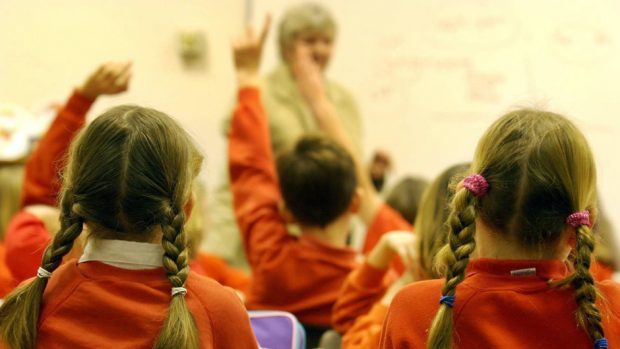 Education chiefs in Aberdeenshire have unveiled a £350,000 plan to lure new teachers to the region as they battle worrying shortages.
The local authority revealed yesterday that they will spend cash set aside in its budget on an innovative new recruitment campaign.
The measures are focused on attracting teachers to Aberdeenshire from elsewhere in Scotland, as well as "growing our own".
More help will be offered to teachers and probationers who have children, including childcare support and extended nursery provision.
The TIES programme – which retrains professionals previously employed in the oil and gas sector to teach science, technology and maths subjects – will also be expanded in the north-east to other subjects.
And the authority will work with North East Scotland College to support apprentices in early years work with entry courses and bursaries.
As part of the deal, all teachers and early years workers who receive benefits will be required to remain in Aberdeenshire for up to three years.
The council already offers a £5,000 up front resettlement package to teachers not currently employed in the area who move to local schools.
Education director Maria Walker said: "It has become clear that there is a national shortage of teachers and Aberdeenshire will require to deliver both short and long-term solutions to address this issue.
Earlier this week it emerged teacher vacancies in Aberdeenshire have been slashed in this academic year.
There are currently 48 staffing gaps, down from 87 recorded in August.
But Mrs Walker has warned that the "age profile" of teachers in the area is changing and that action must be taken new to recruit new blood.
Nearly 35% of all Aberdeenshire teachers are over the age of 50 and 11% are aged over 60.
Forecasts show that, unless new staff are recruited, by 2021 nearly half of teachers will be aged over 50 and 20% will be nearly retirement.
Last month, Banff Academy head teacher Alan Horberry warned that by 2020 there will be 25 technology teachers vacancies unless action is taken now.
Mrs Walker said: "Officers have undertaken a detailed analysis of current trends which show that additional interventions are clearly needed."
Council co-leader Alison Evison – chairwoman of the authority's education committee – echoed the director's comments.
She said: "Aberdeenshire Council is developing local strategies in response to the on-going challenge of teacher recruitment.
"Officers continue to work with partners such as the universities to train people to become teachers."
She added that the new report, which will be presented to the education committee on Thursday, will allow councillors to discuss the measures.
Last night the package was broadly backed by David Smith, the local secretary for the EIS teaching union.
He said: "We would welcome any measures to recruit and retain teachers in the north-east. The focus has been to secure teachers for the immediate term and longer term."
Mr Smith acknowledged that Aberdeenshire Council has "tried everything possible" to bring new staff to the area.
He added: "We are all singing from the same hymn sheet. We welcome anything that improves the situation."