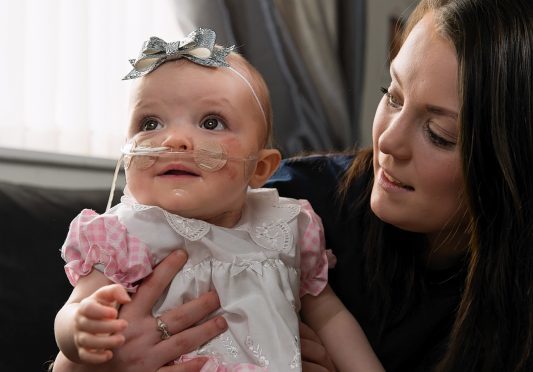 The mother of a north-east baby, suffering from a rare lung condition, has organised an awareness and fundraising event in Peterhead to support other families battling the disease.
Alannah Sangster needs round-the-clock bottled oxygen as she struggles with a form of children's interstitial and diffuse lung disease. She is one of just two kids in Scotland fighting the condition.
The eight-month-old, who stopped breathing in December, sparking fears she might not recover, is awaiting the results of extensive tests.
Now, her parents Lauren Norris and Bryan Sangster from Boddam have set up an event to investigate and highlight Alannah's plight.
Their Alannah's Diary blog already has hundreds of readers who are following the progress of the brave youngster.
Miss Norris said: "At four weeks, Alannah became really ill with a persistent cough that came and went but always came back worse.
"After months of trying to get to the bottom of it, she ended up in an ambulance on December 30 and was admitted to Aberdeen's Children's Hospital."
Once an exhaustive series of tests had ruled out cystic fibrosis, doctors turned their attention to other prognoses.
Miss Norris added: "Alannah has been diagnosed with a very rare lung condition called childhood interstitial lung disease.
"We are currently waiting for her bronchoscopy, endoscopy, genetic tests and blood results to come back."
The family expect to learn more this week.
The family fun day will be held in Peterhead's Rescue Hall on July 1. A host of fundraising activities including raffles and stalls will be on offer.
The funds will be donated to the Child Lung Foundation charity.
The latter organisation was set up by affected families and seeks to offer emotional and practical support as well as small financial grants.
Further information can be found on the Alannah's Diary Facebook page, and donations are being collected at: justgiving.com/fundraising/Alannahs-diary-chILD