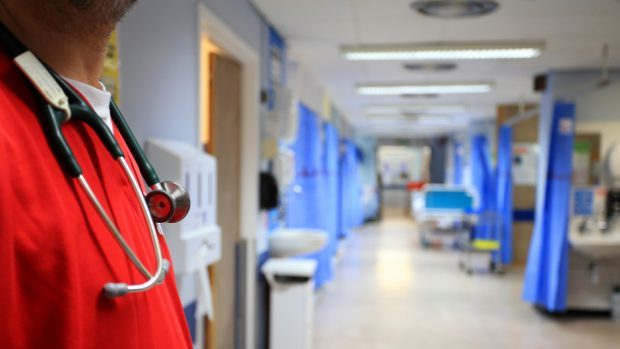 Healthcare inspectors have praised the cleanliness of north-east hospitals but have warned that domestic staff could to do more to prevent the spread of infection.
The Healthcare Environment Inspectorate (HEI) last night published its reports on visits to Peterhead, Ugie and Fraserburgh hospitals between March 1 and March 3 this year.
It found that staff had a good knowledge of infection control protocols and that patients were happy, but that domestic staff were not always wearing aprons when carrying out cleaning duties.
It has also warned that several wash basins were not to regulation and that some patients chairs had been contaminated because they were not being checked.
Alastair McGown, senior inspector for the HEI, said: "During our inspection there was a good level of knowledge and understanding of the standard infection control precautions, and the standard of environmental cleaning by the domestic staff was very good.
"However, we identified issues for improvement. NHS Grampian must ensure that patient chair cushions and pressure-relieving cushions in Fraserburgh Hospital are safe, clean and ready for use."
Last night, Lorna Watt, who is the Buchan location manager for Aberdeenshire Health and Social Care Partnership, said: "We are happy with the positive comments inspectors made but we also know there are always areas where things can be further improved.
"That's why we've already taken steps to ensure that the feedback around better cleaning of some chair cushions is acted upon and improved."
At Fraserburgh Hospital, accident and emergency as well as Brucklay, Kinnaird and Philorth wards were inspected.
The inspection at Peterhead included the Summers Ward and Midwifery Unit while at Ugie Hospital the Ravenscraig ward was inspected.
Peterhead Community Hospital is a 35-bed community hospital which provides GP acute services for medical assessment and palliative care. It also has small renal, midwifery-led maternity and minor injuries units.
Ugie has 14 beds and provides care for the elderly and rehabilitation and enablement services.
Fraserburgh is the larges of the three hospitals with 49 beds.
It provides services for medical assessment, palliative care and rehabilitation or convalescence following surgeries or acute illness.