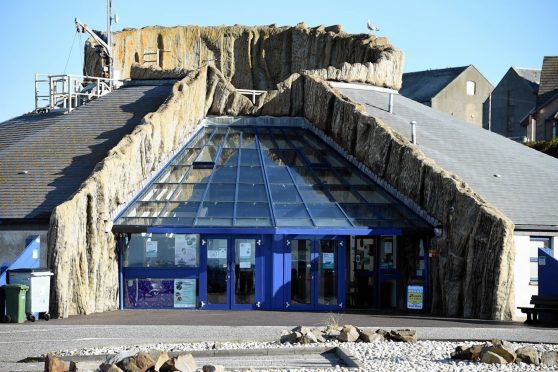 Work is well under way to refurbish one of the north-east's most popular tourist attractions.
Macduff Marine Aquarium has been a focal point for the community since 1997, helping to showcase the prolific sea life in the region's waters.
But last week, the attraction closed for a revamp – with workmen now moving in to begin transferring fish to storage tanks.
Today, a giant crane will start lifting the biggest of the centre's fish from its 16ft-deep kept tank.
About 400,000 litres of water has had to be drained from the aquarium for the work to begin.
Describing it as an "adventure" to catch all the fish for storage, a spokeswoman for the aquarium said: "It's been a busy first week of our refurb works.
"Our lifeboat tank is installed and plumbed in and we started catching the fish yesterday too, taking out the slow moving and smallest ones that are being housed within the other aquarium displays."
There had been concerns that the 12-week closure of the facility, which is owned by Aberdeenshire Council, would leave parents with nowhere to bring their children over the school holidays.
The local authority's head of leisure, John Harding, said he understood that the closure was not being closed at an "ideal" time.
He added: "I appreciate the timing of these works is not ideal, given the summer holidays will soon be upon us, but the aquarium has stood on our shores for 20 years and is now in need of a well-deserved birthday makeover.
"The kelp tank will be back with an even better reef exhibit when it reopens to the public later this year in celebration of the aquarium's 20th anniversary."
Visit Aberdeenshire board member and Banffshire tourism expert Roger Goodyear urged potential visitors to still come to the region.
"There is a host of things to do," Mr Goodyear said.
"The strength of the area is the dramatic coastline. We have amazing beaches and clifftops for walking."