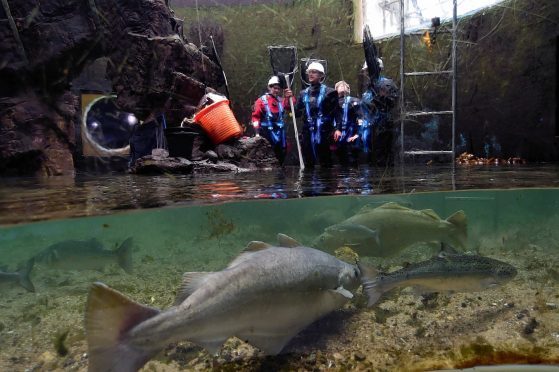 Staff at a north-east aquarium have used a crane to move the attraction's largest and fastest residents as work on a major refit gets under way.
Macduff Marine Aquarium draws nearly 50,000 tourists to Banffshire every year but is now closed until the end of July while the centre's main tank is overhauled.
Around 400,000 litres of water have been drained from the aquarium and fish from the 16ft-deep kelp tank – the centrepiece of the tour – have been moved to a "lifeboat tank".
Yesterday the team brought in a crane to help lift the largest animals out of the central tank.
They also took the opportunity to release the aquarium's resident conger eel, Connie, back into the wild.
Last night centre manager Claire Matthews said: "All the fish are out so it's been massively successful. We had four catchers in the water.
"The salmon and pollock are faster than the others so we had to drain out a lot of the water first. The animals were put into tubs and carried out – they all went into what we're
calling our lifeboat tank."
It is understood the fish were in little danger during the carefully-planned operation and were all transferred to the lifeboat tank or other exhibits safely.
She added: "The last one we took out was Connie the conger eel. We were so pleased – she's been hiding in the rocks for two years. But we left out a pipe and she took shelter in there."
Conger eels migrate to the Azores to mate when they reach maturity and the aquarium team thought the refurbishment was the best opportunity to release her back into the Moray Firth.
The next step in the refit of the kelp tank is to demolish the existing rock features before specialists are brought into to replace the windows.
The lifeboat tank outside the attraction is plumbed into the main system and will preserve the fish in the same conditions they enjoyed in the kelp tank.