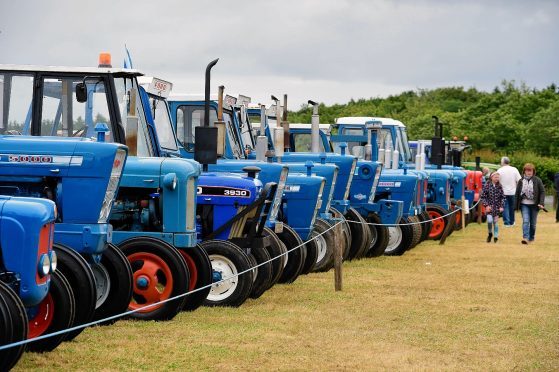 Thousands of people gathered in Buchan this weekend for a celebration of the north-east's farming industry.
The 170th New Deer Show was buffeted by heavy rain on Saturday, keeping attendances low, but thousands of people did visit Craigieford Park for the festivities yesterday.
The line-up for the two-day event includes traditional livestock contests as well as a tug-of-war challenge and a highly-anticipated tractor pulling competition.
Last night, show president Drew Elphinstone said he was pleased the show was blessed with at least one day of sunshine.
He added: "Rain did affect turnout yesterday. Most of the people who were there were there for the livestock. There weren't as many people there for the sports.
"But the sun is out today and attendance is looking very promising. It's on a par with last year."
An estimated 6,000 people went through the New Deer Show gates last summer when rain also hit turnout. The event has never been delayed or cancelled in its history.
Mr Elpinstone said: "We're always going ahead regardless of the weather. It's been a privilege to serve as the president and to work under the committee.
"They are a fantastic group of people and they've made my life a lot easier."
He revealed that the big highlights of the weekend, away from the livestock contests, were the tug-of-war and the celebration of Ford tractors.
The display – which included dozens of machines – marks 100 years of production by the American firm.
The annual tug-of-war was won by local group New Deer Young Farmers.
Other attractions included an educational tent for youngsters, the annual food and craft tents and the feather and fur animal contest.
New Deer Show also boasts one of the best-known equine events in the region. In the run-up to the proceedings, Mr Elphinstone claimed a display of Clydesdale horses would "remind people of the old days".​