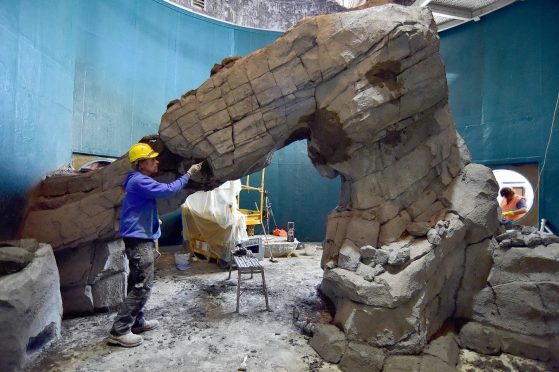 These pictures show the dramatic refurbishment of a north-east aquarium, as work to overhaul the central 90,000 gallon tank reaches the halfway point.
The team at Macduff Marine Aquarium is in the midst rebuilding its exhibits to mark its 20th year.
The popular Banffshire attraction, which lures tens of thousands of visitors to the area every year, is closed to the public until August.
These fresh images show the main tank stripped of all its old rock features and waterproof lining – which had been damaged.
In its place aquarium specialists have laid on and painted new waterproof lining on the walls and resealed the viewing windows.
Now a new rock feature – made from plastic pipes, mesh, cable ties and concrete – is being constructed.
Last night manager Claire Matthews said: "These structures are nearly complete now and have been inspired by the geological features of the local coastline.
"It will take 2 more weeks for the window sealant to dry properly before we can refill the tank. We will need to get a really big pump to fill the 90,000 gallon tank straight from the sea – it would take days to do it with our own system otherwise.
"We're very excited that the kelp exhibit will have a fabulous new look."
In the meantime some aquarium residents have been sent on holiday to the Aberdeenshire Farming Museum at Aden County Park. New mobile touch pools house rocky shore creatures including starfish, hermit crabs and sea urchins.
The aquarium team have thanked all the local neighbours and customers for their "patience" during the closure. Mrs Matthews said her staff are looking forward to celebrating the centres 20th anniversary at the Big Splash event on September 9 and 10.
In the meantime the refurbishment team will continue to update the visitor centre's social media pages with information about the project and how the marine residents are coping in their temporary homes.