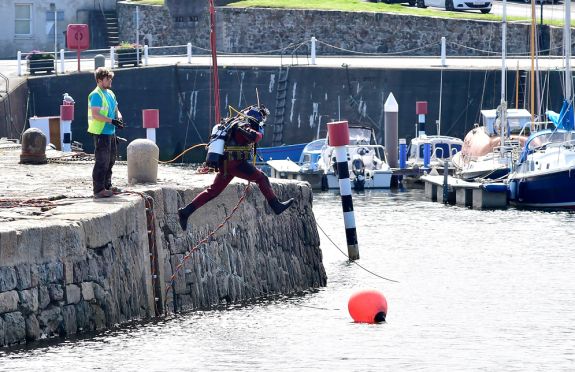 A popular open water swimming event was cancelled due to safety concerns over an unstable pier which collapsed just days before the race was due to begin.
The Banff Bay Swim was due to take place last week but was called off at the last minute.
Now it has emerged that organisers' safety fears about how the race would be swum around the damaged area forced them to abandon the event.
The saga of repairs at Banff marina has rumbled on since June when a section of masonry first plunged into the sea.
Urgent repair work was begun to shore up the damage but that caused a 30-tonne slab of concrete to slip into the harbour channel last week.
The organisers of the swim cancelled the event, which attracts dozens of competitors, altogether.
A spokesman said: "The cancellation is due to construction work being carried out at Banff harbour which prevents access for swimmers and boats.
"We're disappointed yes but we must put our swimmers safety first so we look forward to next year."
Aberdeenshire Council – the authority which manages Banff marina – has apologised for the inconvenience caused by the repairs.
A spokesman added that work is now underway to float the chunk of concrete out of the channel. Divers are using heavy-duty floatation bags to lift the slab off the seabed.
He said: "Work will then continue to remove any additional debris from the channel. At present vessels are allowed to enter and exit half an hour either side of high tide."
The estimated completion of this phase of the repairs is August 29.