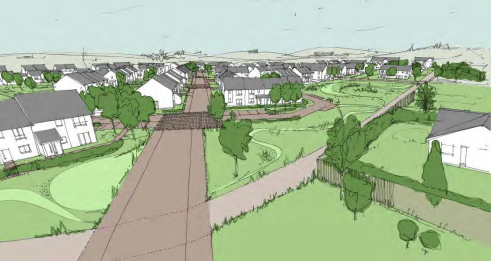 Council planners have given their backing to a major project which would create a new 231-home neighbourhood in Turriff.
Developer Springfield Properties has lodged plans to build the houses on agricultural land on the northern boundary of the town.
Now Aberdeenshire Council's planning chiefs have given the Meadowbank Road scheme their backing, and it could be granted approval by councillors next week.
If planning permission is approved the 30-acre site will be transformed into a new community.
Under the plans all the homes, a mixture of bungalows, flats, semi-detached and terraced houses, are classed as "affordable".
But objectors have accused developers of using the affordable homes tag to push through an unnecessary number of properties.
The aim of the development is to ease the pressure on the north-east's housing waiting list, which currently has around 8,000 applicants.
The council has a target of building 400 affordable homes in Aberdeenshire every year but fewer than 370 have been delivered in total since 2012.
However the local authority said it may not be commercially "viable" to have all 231 properties classed as affordable, and instead asked for a commitment of only 25%. The remainder would be left to Springfield's discretion.
Objections have been raised in the local community about pressure on local medical services and increased traffic on the roads. As part of the project Springfield will contribute to an expansion of the local health centre.
Questions have also been asked about whether the town's schools can accommodate hundreds of new children. The council's education service says there will be space in the new Turriff Primary School.
Aberdeenshire Council's infrastructure director Stephen Archer has backed the development.
In a report to councillors he said: "It is considered that the proposed development complies with the relevant policies within the Aberdeenshire local development plan.
"While the application is promoted as a 100% affordable housing development, there is no policy requirement for this site to be delivered as such."
Mr Archer recommends that members of the Formartine area committee back the scheme when they meet on Tuesday.
The new neighbourhood would be around a 15-minute walk from the heart of Turriff.
A total of 169 houses and 62 flats would be constructed as part of what a Springfield spokesman described as a "natural expansion of Turriff".
Turriff Community Council has formally objected to the Meadowbank Road project, citing concerns about the sheer number of new houses and the pressure on public services incoming residents will bring.
Chairman Mike Rawlins said: "We do not believe that there is demand for this many affordable homes in Turriff and it is a thinly-veiled attempt to maximise the return from the development site."