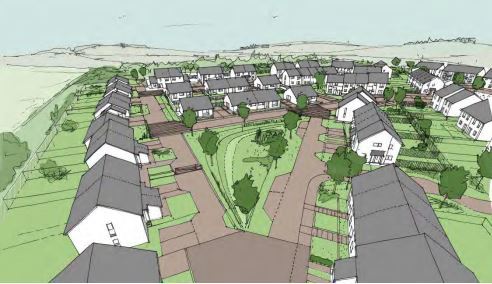 Councillors have stalled plans to build a new north-east neighbourhood over concerns that local infrastructure could not cope with an influx of more than 200 families.
The Formartine area committee met in Oldmeldrum yesterday to consider the proposals to build 231 affordable homes at Meadowbank Road on the northern boundary of Turriff.
Development company Springfield Properties had lodged the plans in a bid to transform the 30-acre site into a new community.
Under their proposals all the homes – a mixture of semi-detached and terraced houses, bungalows are flats – would be classed as "affordable".
The waiting list for council homes in the north-east has around 8,000 applicants but fewer than 850 affordable properties have been built in the past five years.
Last year Aberdeenshire Council set a target of helping developers deliver 350 each year.
Aberdeenshire Council has allocated the land in Turriff for 150 houses, but the developers want to increase that number dramatically by building smaller, cheaper houses.
Local authority planners have backed Springfield's scheme but councillors raised concerns about the impact such a large development would have, and whether there is enough demand for cheap homes in Turriff.
Turriff councillor Anne Stirling said: "I think everyone round the table would welcome the intention to build affordable housing. It's high on everybody's list of priorities and it is not that which gives me concern."
She also raised worries about one of the access roads to the Meadowbank Road site running straight past a new school.
"There was a lot of discussion locally when the new school was being built about road safety and traffic," she said. "There is speeding along Meadowbank Road. We have had complaints.
"There was an existing problem and this will intensify it."
Mrs Stirling said she had seen "no justification" for increasing the number of houses on the land by 50%.
SNP group leader Richard Thomson said although he "would not be happy" to reject building so many affordable homes, that deferring the project for two months will give the planning service and developers the chance to iron out the issues raised at committee.