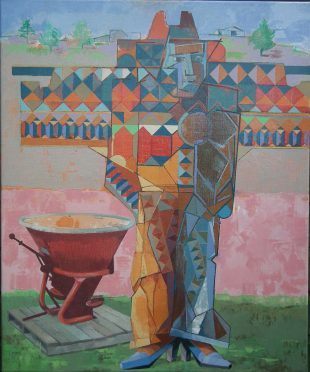 A new exhibition of work by an Aberdeenshire artist inspired by the north-east's farming heritage will go on display at Duff House.
Allan Lawson's Field Furniture collection is a series of new paintings exploring the landscapes of the region, heavily inspired by the agricultural industry.
The colourful images have been described as a mixture of cubism and collage and include imagery of scarecrows, machinery and local farm buildings.
The collection is on show at Georgian manor Duff House in Banff.
Mr Lawson said: "These new works focus on the agricultural hinterland of Duff House.
"In this exhibition, as in all of my work regardless of subject matter, the imagery is used as a device on to which I can hang my personal ideas of colour."
He said the mix of colour, farm implements and scarecrows may seem "zany" to some people but that he hopes his work is provocative.
Mr Lawson trained at Gray's School of Art in Aberdeen and Hospitalfield College in Arbroath. He has had works bought into both private and public collections, including the National Gallery of Modern Art.
Duff House manager Graeme Curran said: "At Duff House we're keen to showcase artists from the local area and are delighted to be hosting this new exhibition by Allan Lawson.
"Field Furniture comprises a series of thought-provoking works that offer a unique vision of the local landscape, inviting us to explore the history and heritage of our surroundings."
He added: "I hope that visitors will take this opportunity to appreciate a wonderful local artist against the beautiful backdrop of Duff House."
The exhibition is on display now and will be at Duff House until Sunday, September 17. Entry to the exhibition is included in the Duff House admission price and is free for Historic Environment Scotland (HES) members.
Duff House is jointly overseen by HES, Aberdeenshire Council and the National Gallery of Modern Art.