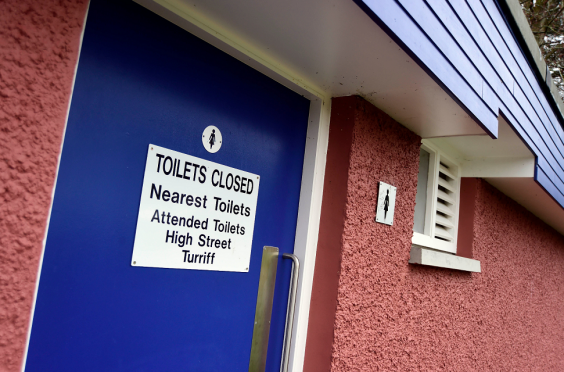 A north-east public toilet could finally be granted a reprieve after councillors were asked to commit to keeping the convenience open.
Aberdeenshire Council had proposed ditching toilets at the Haughs in Turriff in a bid to save cash, but sparked outrage among residents and visitors, who argued the site at the town's park was well used.
The local authority operates 50 conveniences alongside a further 19 "comfort partnerships" with private firms in the region – among the highest number of council conveniences in the country.
The service costs the taxpayer more than £880,000 a year.
Now, Aberdeenshire's business services committee has been asked to consider scrapping the nearby toilet at Turriff's High Street car park.
Local councillors have already given their blessing to the plans.
In a report to members of the business services committee, north-east facilities manager Tom Buchan said: "Turriff Community Council completed a public consultation exercise, the outcome of which was to retain the Haughs site as the preferred site for Turriff.
"This had been a seasonal site, which was open only for the summer months. To open the Haughs facility as a permanent site would require the closure of the High Street site.
"This would then be declared surplus to requirements and would be available for disposal."
Keeping the Haughs site operation means Turriff's other toilet facility must be deemed surplus to requirements. Both the Haughs toilet and the one in the town centre would cost around £7,500 to maintain all year round.
Last year, more than 300 Turriff residents signed a petition demanding the council keep the Haughs site open. In her call to action, petition organiser Karen Macdonald said the closure could "only be a bad thing".
The operation of Turriff's toilets has proved controversial in the past and, in 2015, Aberdeenshire councillors blocked a bid to transform a site in the town's Duff Street into a takeaway.
The business services committee will meet at Woodhill House on Thursday.