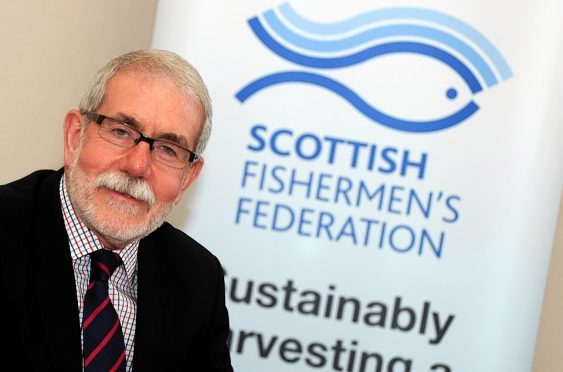 Two-thirds of the public believe fishing boats from other EU nations should be banned or restricted from entering British waters after Brexit, a new poll has revealed.
The Scottish Fishermen's Federation (SFF) released the latest figures as it ramps up pressure get skippers the best deal it can from leaving Europe.
It will hold a fresh round of talks with the UK Government today as ministers are pressed for clarity on exactly how and when the country will withdraw from the common fisheries policy (CFP).
Last night SFF chief executive Bertie Armstrong hailed the poll as proof that leaving Europe would represent a "sea of opportunity".
Commissioned from YouGov, it also found most people (56%) believe scrapping the CFP would offer greater opportunities for local boats.
"They recognise that the current practice whereby we are forced to let in boats from other European countries, which are then free to go home with around 58% of the total catch in our waters, needs to end," Mr Armstrong said.
"We must have first call on quota.
"We accept that there is a case for a very short bridging period in 2019 to align ourselves with annual international discussions, but we need to make the most of this opportunity as soon as possible."
Former Peterhead skipper Jimmy Buchan, now the business manager of the Scottish Seafood Association, added its weight to the SFF's findings.
He said: "The Scottish Seafood Association broadly agrees with this public opinion – this is about undoing a wrong that was gifted away decades ago.
"For our communities and people to benefit we must first get a better and fairer share of what fish is available in our waters. Thereafter, we can then look to giving access to other countries under our terms and conditions which will be controlled by the coastal state of the UK."
He said it was vital at the same time to ensure the processing industry would benefit fully from the new regime.
Environment Secretary Michael Gove is said to be pushing for the UK to leave the CFP immediately after Brexit, and not remain in it through any transition.
Pressed on the issue yesterday by Northern Isles MP Alistair Carmichael, Prime Minister Theresa May said: "When we have left the European Union, we will be leaving the common fisheries policy.
"As part of the agreement that we need to enter into for the implementation period, obviously this and other issues will be part of that agreement."
Mr Carmichael, the former Scottish Secretary, said she had failed to give a straight answer.
"It is simply unacceptable that our fishermen should be left having to work to rules under which they have no say," the Liberal Democrat said.
Banffshire and Buchan Coast MSP Stewart Stevenson criticised "alarming" Tory comments about "protecting the interests of other countries' fishermen".
"It is no surprise that public opinion is sending such a clear warning to the UK Government that we should not be 'sold out' as current statements suggest we will be," he added.
Banff and Buchan Conservative MP David Duguid said: "I was very pleased to hear the Prime Minister confirm today that we will be leaving the CFP when we exit the EU in March 2019.
"This poll shows substantial support for that position and a recognition among the public that our fishermen have a better future outside of the EU."