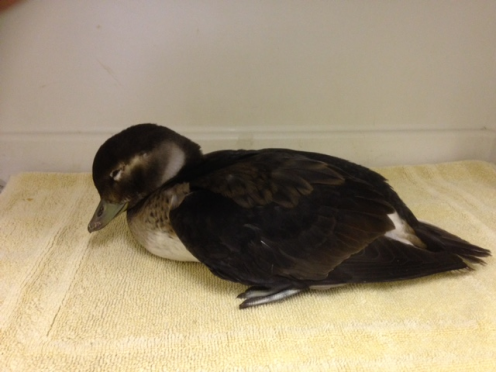 The boss of a north-east animal rescue charity has spoken out after a duck could not be saved.
The New Arc had been called to Newburgh Beach on Tuesday after a tourist spotted the long-tailed duck in distress near the dunes.
It sadly died, however, despite the group's best efforts.
But now its manager, Keith Marley, has urged members of the public to alert someone as soon as possible if they see an animal in need of help.
While he was making his way to the duck's location, locals had offered him directions.
They had seen the animal but not called for advice.
"Every second counts," Mr Marley said last night.
"I passed a few people on the way there, who were there enjoying nature and taking photographs, but they hadn't phoned anybody.
"It's quite disturbing. We can't guarantee anything, but as soon as you see an animal you need to be phoning someone for advice.
"We are always happy to assess a situation. If an animal isn't trying to get away from you, there is a good chance that something serious has happened.
"Unfortunately, too many people seem to think its best to let nature take its course."
The charity, which is based in Ellon, receives calls about injured animals hundreds of times each month.
Recently, it took in a deer which had suffered head trauma leaving it temporarily blind and deaf.
Mr Marley said every call was treated as important.
"We get about 70 calls a week from people at this time of year," he said.
"Sometimes it's people just looking for advice on what to do about an animal, and sometimes its something more serious that we will have to go out for.
"What's important is that we're told about it right away."