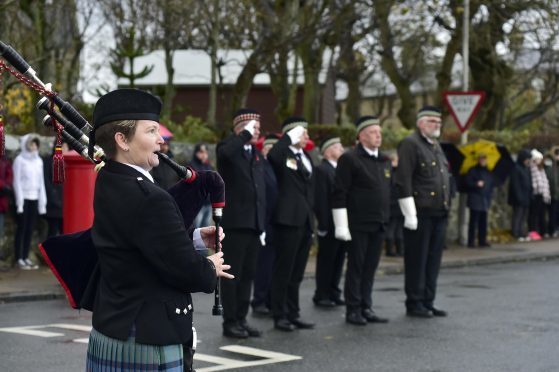 The north-east fell silent over the weekend as heroes from World War I and II and other conflicts were remembered in poignant tributes.
Yesterday, a parade of around 250 serving and retired servicemen and women and children marched from Fraserburgh Royal British Legion Hall to Old Parish Church for a remembrance service.
Due to cold and windy weather conditions, a planned pilgrimage to the war memorial at Saltoun Place had to be scrapped, with just a few people heading up to lay wreaths.
The group went back to the Royal British Legion Hall for teas and to share memories.
Parade commander Gary Mutch said: "It was very well attended as usual. We had Fraserburgh Royal British Legion Pipe Band playing and there were many of the ex-servicemen there. We must have had around 250 involved in the parade.
"It was all going quite well until we came out from the church service and the weather was terrible. We had to cut the parade short.
"Normally, we go out to the war memorial, but because there was so many children in the parade, we decided it was too cold for them. Some of the adults went out and laid wreaths at the memorial.
"The two dignitaries that attended were Lady Kate Nicholson and Peter Chapman MSP. Both marched in the parade and both laid wreaths. Lady Kate Nicholson and Mrs Wilma Winton read passages from the bible in the church service.
"Apart from the weather, it went perfectly. We did hope to avoid the rain, but unfortunately it wasn't meant to be."
Asked if it was important the fallen were still remembered, he replied: "Very much so. It showed by the amount of youngsters who were there. It shows they are being kept informed about what has happened in the past.
"We had army cadets, air cadets, sea cadets, scouts and the Boys Brigade involved in the parade."
On Saturday, which was Armistice Day, community leaders and members of the public made their way to Rosehearty War Memorial to pay their respects.
The service was led by Ruth McKenzie, moderator for Pitsligo Parish Church, and a wreath was laid by Councillor Ross Cassie.
He said: "It was dignified and fitting for the occasion. It was very windy.
"It was good to see both older people and youngsters of primary school age turn out to pay their respects."