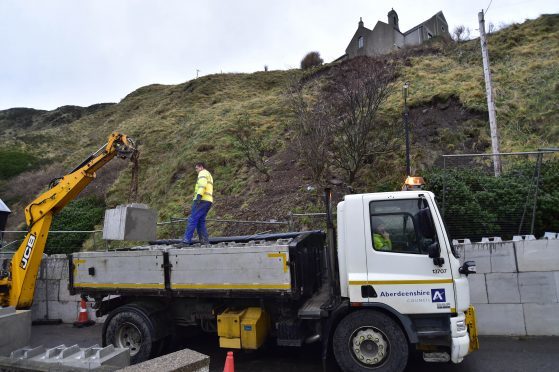 A north-east road has been closed amid fears of another landslip.
Aberdeenshire Council was forced to issue an emergency closure of Gardenstown's Harbour Road on Wednesday night after it became clear that the region would not escape Storm Caroline.
Derek Murray, the authorities roads manager, made the call on the advice of geologists who raised concerns that a bank overlooking the tiny village's road was on the verge of slipping.
In a letter issued to homeowners on the street, he added that the road will be closed for an "undefined period" until a solution can be found.
Land near the road slipped last week and the council started to remove loose material and bolster the roadside on Monday.
"However, further movement occurred in the embankment overnight and this, along with heavy rain today and severe weather warnings for the coming days, has meant that it was considered too dangerous – and the bank too unstable – for protection works to advance sufficiently," Mr Murray said.
"Therefore, we have reluctantly taken the decision to close the road."
Residents in the village were advised yesterday to begin moving their vehicles from the bottom of the hillside community to the higher ground.
Vehicles were allowed to leave through the road but not enter.