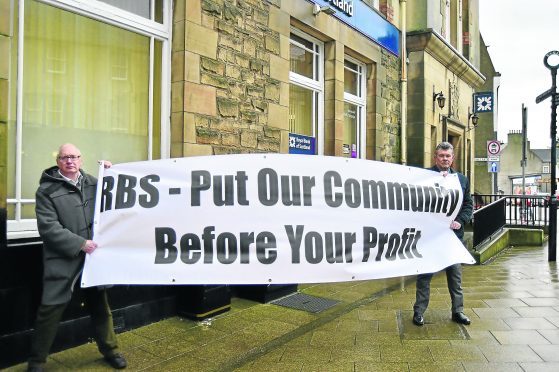 People in a north-east town will take to the streets this week to fight the closure of the community's bank.
Royal Bank of Scotland announced last week it plans to axe their Banff branch next May.
The lender said there has been a drop in customers using their High Street outlet with more people turning to online banking.
A demonstration against the move will make its way through the town centre tomorrow.
Banff and District Councillor Glenn Reynolds is hopeful locals will get involved to let RBS bosses know that people in the town are strongly opposed to any closure.
He said: "On Saturday, a march will go through the streets of Banff. We are certainly gathering our own membership, but we are hoping other people join us.
"People will see us in the centre of Banff in the morning and we are starting our march at about 10am."
Following a similar move in Turriff, a petition has been launched in a last-ditch attempt to avert the closure.
It reads: "There will be a number of very unhappy customers that have been very loyal to RBS but now be thinking if it was worth it.
"Make RBS see the impact this will have on the people of Banff and stop the closure."
Mr Reynolds is hoping businesses and ordinary people get behind it by signing up.
He said: "I am urging people to support my petition to oppose the local branch of the RBS in Banff from closing in May 2018.
"Having access to your local bank is vital, and expecting people to travel long distances to visit their bank is unacceptable.
"The people of Banff deserve better than that, not least when staff are being told they are under threat of being made redundant just as nine executives of RBS will be receiving grotesque share bonuses totalling £16m.
"Our High Street deserves better and so do the loyal customers of the bank. We need banks to support customers, not abandon them."
Royal Bank of Scotland in Banff is due to close on May, 23 next year meaning the nearest branch for customers is in New Deer, more than 20 miles away.