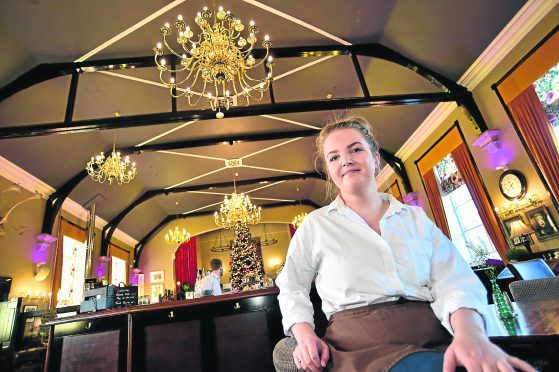 They shone down on concert-goers enjoying performances by some of the biggest names in entertainment over the years.
And now eight chandeliers from Aberdeen's famous Music Hall are enjoying a second lease of life illuminating diners at a cafe.
The extravagant lights are just some of the fixtures and fittings removed for the venue's £7million refit that have been found new homes across the north-east.
As part of the project all of the furniture, utilities, collectables and keepsakes went under the hammer at auction last year, giving people a chance to own a unique piece of history.
Among those keen to snap up rare items were Graham and Jenny Smith, who own the Old Auction Room Cafe in Strichen.
Mr Smith said: "We went through and had a look and by the end of our visit we had agreed on a job lot for the entire lighting in the music hall.
"We had no appreciation of the amount of work to remove them and once we actually got some of the big lights down you appreciate the size and scale of them.
"While doing the work we agreed to put as much of the lighting in the auction room as we could.
"We've basically lit the entire auction room with lights from the Music Hall."
Mr Smith said their customers appreciate the chandeliers and the gold curtains they bought and have hung in the cafe's windows.
He said: "Visitors drive out to Strichen to come to the cafe and they walk in to the entrance and the first room they enter is the cafe.
"People's reaction is quite heart-warming and they are taken aback with what they see.
"It certainly makes an impact and a lot of people ask where we got the fittings and you tell them it was the Music Hall and it makes a great story."
Jennifer Farr from Peterhead was also at the auction and ended up buying three red Music Hall seats for £15.
She said: "They were a set of three seats from one of the back rows and I don't think they have ever been sat on.
"They are in our living room so we do use them.
"We've been to a lot of gigs there and it was my other half who wanted them.
"It is just something a bit different, a bit unique with a bit of history."