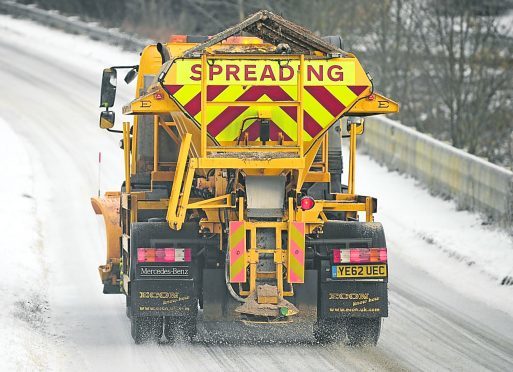 Community leaders have slammed the council for what they have branded the "the worst gritting job" of the past two decades.
Road and pavement surfaces across Fraserburgh and nearby villages were only just starting to clear yesterday after a week-long cold snap that hit the region.
Other areas were able to get moving days ago, but much of the town has been sat under sheets of ice.
Affected the areas include the beach esplanade in Fraserburgh, streets including Gallowhill Road and Robertson Road were affected.
Last night, local councillor Brian Topping, who was first elected to the regional council in the 1980s, said the effort to prevent people falling was "not good enough".
"This has been the worst gritting job I have ever seen in my time as a councillor," he added.
"Obviously, I take my hat off to the hardworking grit crews, but I think the council has been caught short here.
"Some of the roads and pavements are like ice rinks and are really unsafe.
"I know things take time, but a better plan should have been in place. Only yesterday were we starting to see black on some roads."
He was joined by Rosehearty councillor Hamish Partridge who said some of the roads verged on being "lethal" to motorists.
"I am sure the council employees and teams of gritters are doing all they can possibly do but clearly this is far from enough," he added.
"Steps must be taken to increase the man power and bring in outside contractors to assist before people get injured or worse.
"This is a priority council service that is failing the tax payer every step of the way.
"Aberdeenshire Council need to take a serious look at themselves and deliver a better service for our communities."
A spokesman for Aberdeenshire Council said it starts gritting operations at 5.40am each morning.
"As Aberdeenshire has over 3,400 miles of roads and over 1,000 miles of pavements, it is not possible to treat all our roads simultaneously and we have to prioritise which routes are gritted and ploughed," he added.
"This means that in times of severe winter weather such as the last few days there will be delays in treating minor roads and residential streets.
"However, our teams are working hard to cover as much ground as possible and we would urge drivers and pedestrians to be prepared for winter conditions and drive according to the prevailing conditions."