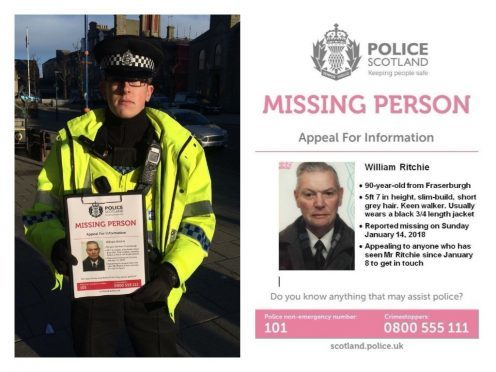 Extensive searches are continuing today for a north-east pensioner who has not been seen since the weekend.
William Ritchie was reported missing by a neighbour on Sunday and a major operation has taken place to trace him.
Police focused their efforts on the West Road, Strichen Road, Boothby Road and Watermill Road areas of Fraserburgh yesterday.
Can you help piece together missing north-east pensioner's movements in the past week?
Today specialist search officers and a police dog unit will be carrying out a search along the old railway line from the town to Strichen. The 11-mile stretch could be a potential route that the pensioner may have taken before being reported missing.
The last potential sighting of the 90-year-old was at around 3.30pm on Friday when he was seen heading towards the town's Asda store, although this is yet to be confirmed.
Officers will also be distributing posters in the town centre in the hope someone recognises him and can pass on any information to police as they try to piece together the pensioner's movement over the past week.
Local Inspector Kevin Goldie said: "Another night has passed without anyone seeing or hearing from Bill which means our concerns for him are growing.
"Bill has been known to be a keen walker in the past and regularly took a route round Fraserburgh covering West Road, Strichen Road, Boothby Road and Watermill Road. On occasions he has been known to walk as far as Memsie and Strichen but has been keeping closer to home recently.
"Searches will continue today to ensure a possible route Bill might have taken is thoroughly searched while we make the most of daylight hours."
Mr Ritchie is a keen walker and is often seen around the town and even as far out as the villages of Memsie and Strichen.
He is described as being around 5ft 7in, of a slim build, with short grey hair. It is not known what he is wearing, but he usually wears a black jacket.
Last night, Councillor Charles Buchan said the situation is "worrying" and he hoped Mr Ritchie can be found.
He said: "It's very worrying that such a Fraserburgh stalwart hasn't been seen for that amount of time and we all hope is traced safe and well."
Detectives have urged anyone who has spoken to Mr Ritchie over the course of the last week to come forward as they attempt to piece together his movements.
Local inspector Colin Mowat said they are trying to work out what happened before he was reported missing.
He said: "As more time passes we are keen to speak to anyone who saw Mr Ritchie in the last week to please come forward as we piece together his movements in the lead-up to him being reported missing.
"He regularly shops at Asda and the local Co-op and attends at the post office at Mid Street.
"I would like to thank everyone who has shared our appeals for information so far and to those who have been in touch with information – your support is greatly appreciated.
"Searches have been ongoing in Fraserburgh including the route we know Mr Ritchie regularly walks which takes in West Road, Strichen Road, Boothby Road and Watermill Road.
"These searches will continue to make the most of daylight hours."
Inspector Mowat also made a direct appeal to Mr Ritchie to get in touch with officers and let them know he is safe.
People living in Fraserburgh's West Road area have been urged to check sheds and outbuildings.
Anybody who has any information on Mr Ritchie's whereabouts is asked
to contact the police by telephoning 101.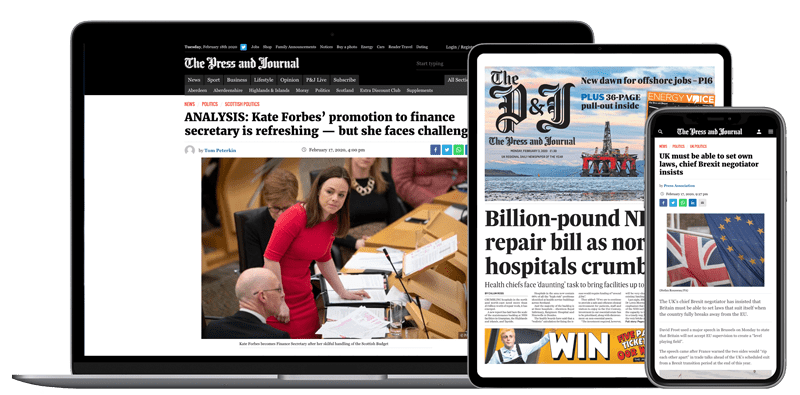 Help support quality local journalism … become a digital subscriber to The Press and Journal
For as little as £5.99 a month you can access all of our content, including Premium articles.
Subscribe