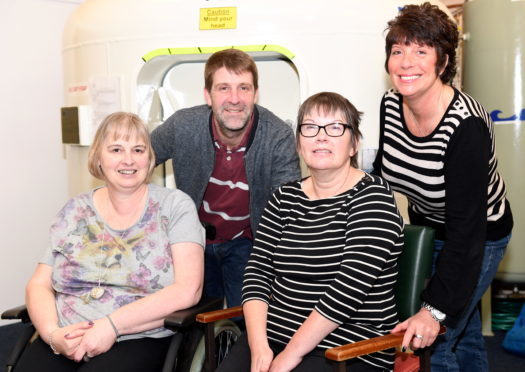 An Aberdeenshire trio who met each other at a multiple sclerosis treatment centre hope their journey to Mexico for ground-breaking treatment will aid the fight against the disease.
Fraserburgh man Scott McKenzie, Turriff woman Lesley McDonald, and Kemnay nurse Evelyn Watt plan to travel to Central America in March after being approved for hematopoietic stem cell treatment (HSCT) currently unavailable in Scotland.
The group, who have become friends after meeting at Aberdeen's MS Therapy Centre, made the decision because HSCT is not being performed outside of trials in England.
Now they are raising £50,000 each to fund the trip.
Last night, former Shell offshore manager Mr McKenzie said the alternative was a life of wheelchairs and being bedridden.
The 45-year-old, who is married to Donna, was diagnosed in 2011.
He said: "When you get that news you feel hopeless and helpless.
"You start to think this is it, life is now going to be a decline. The future just  looks like wheelchairs and being bed ridden.
"It's the prospect of becoming a burden on your family that really gets you."
He hopes the pioneering stem cell treatment in Mexico will allow him to see his grandson grow up and participate in his life.
Mrs McDonald, who worked alongside people with special needs before the disease forced her into retirement, added she was being "realistic" with the decision to leave the country for help.
Yesterday, the 58-year-old said the disease had stolen her and her husband's independence.
"Since the diagnosis I've deteriorated to the point where I'm in a wheelchair to get out and about," she added.
"My husband, Ian, had to take early retirement to look after me and it's devastating to read what's ahead of you.
"I'm being realistic, my aim is to stop the progression and Mexico is something to go for. If we don't do anything we know what the future holds. It's a chance."
And Mrs Watt, who has been unable to continue working as an advisor with the Business Gateway because of MS, said she believed their battle for a treatment option would highlight the need for it be offered more widely.
The former nurse, who was diagnosed in 1999, described Mexico as her "only chance" of a return to normality.
The 56-year-old said: "There are places in England that offer HSCT, but these are all trials at the moment.
"And because I am in NHS Scotland, I wouldn't be accepted onto those trials. There really is no other option.
"I definitely feel let down, I just think the more information that is out there, about the success of this, will raise the profile of the treatment and make it available."
Last night, north-east MSP Peter Chapman said: "It is clear these patients feel they have nowhere else to turn, and I can understand why they are willing to pay their own way to get treatment.
"However, questions do need to be asked about why some of these options are not available on the Scottish NHS. This is not the first time that we have heard of families being forced to go overseas, and it must be a very difficult decision to make."
The group is now raising cash to fund their journey and treatment in Mexico.
Visit www.justgiving.com/crowdfunding/lesley-mcdonald-1 or www.gofundme.com/hsct-to-stop-ms-progression
How does the process work?
The trio will travel to Mexico for pioneering haematopoietic stem cell treatment (HSCT) next month.
The process will involve ripping out their damaged stem cells and replacing them, rebuilding their defences from scratch in the hope of halting their decline from multiple sclerosis.
Like in blood cancer treatments, it attacks the body with chemotherapy to "reset" the immune system.
The MS Society, which is supportive of the treatment option, advises that it is most effective for people who have signs of active inflammation on their central nervous system, who have just experience their first symptoms of the condition, and people who do not present with significant disabilities.`
The treatment is in the early stages of being trialed by the NHS in England and not yet available in Scotland.
Last night, Morna Simpkins, the director of the MS Society in Scotland, said more than 11,000 people in the country are living with the disease.
"As HSCT is still a new and reasonably experimental treatment, which only a small number of people with MS would be eligible for, there are no sites in Scotland routinely providing the procedure," she added.
"However, if your neurologist thinks you would benefit from HSCT you can be referred to one of the sites in England for treatment.
"For the small number of people eligible, it can stop relapses and even stabilise or improve their disability, but this intensive treatment is also high risk and comes with potential side effects like hair loss, nausea and fever."
She said more research was needed before it would become more widely available on the NHS.
A spokeswoman for the charity added that although treatment could be sought outside of the UK, no clinic in Mexico or Russia is accredited by the International Society for Cellular Therapy.
NHS Grampian confirmed that it did not offer the treatment.
A spokeswoman said she could not comment on individual cases, but added: "The risks and benefits of this particular treatment for multiple sclerosis have not yet been fully established."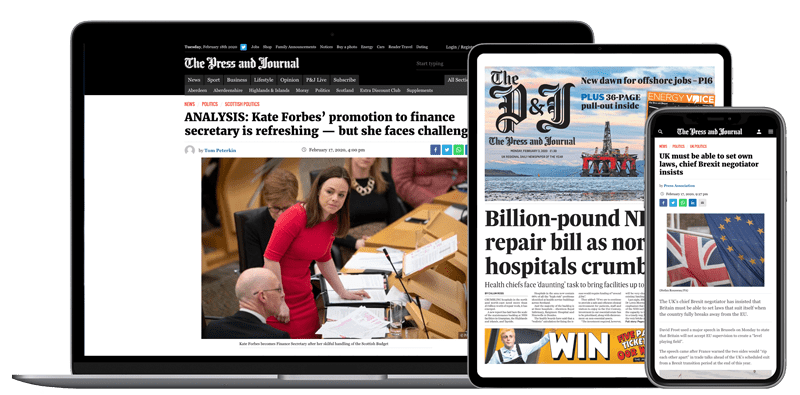 Help support quality local journalism … become a digital subscriber to The Press and Journal
For as little as £5.99 a month you can access all of our content, including Premium articles.
Subscribe