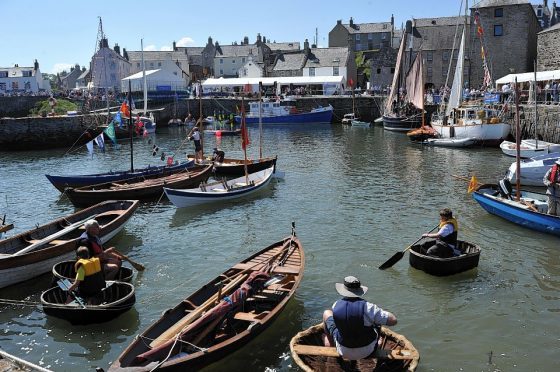 A north-east boat festival has been boosted by fresh sponsorship cash which will allow the event to celebrate its 25th anniversary in style.
The Scottish Traditional Boat Festival in Portsoy is regularly attended by upwards of 10,000 people every summer and this year the event promises to be bigger than ever to mark its anniversary milestone.
To help those efforts, organisers yesterday unveiled local firm ACE Winches as its main sponsor for the third year in a row.
The company will now work closely with Roger Goodyear and Keith Newton, the festival's organisers, in advance of its opening day on June 30.
As many as 16,000 visitors have flocked from across the globe to the tiny village in years gone by, and the weekend has been credited with pumping millions of pounds into the local economy.
Yesterday, Mr Newton described the sponsorship as a "huge boost" for the festival.
He added: "The ongoing support will help us to expand our national and international promotion of the event and attract more visitors.
"ACE Winches is a local company with an international reputation and standing, rooted in the north-east, and the company has also developed a strong Norwegian presence, reflecting our developing links with Scandinavia."
Valerie Cheyne, chief compliance officer for the company, said: "Over the last two decades, the company has been very proactive in providing assistance and backing for a number of local community initiatives and youth projects.
"Being able to support the local community is a key element of our corporate social responsibility strategy."
This year's boat festival will run over June 30 and July 1, and the eclectic proceedings will feature live music, food and traditional fishing boats.