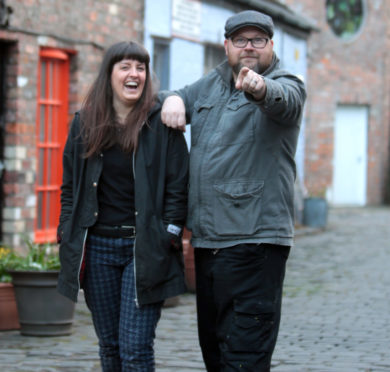 A Glasgow-based jewellery designer is spearheading efforts to revive a historic silversmith trade in a north-east town.
The Meal House in Banff, also known as the Old Smiddy, is in the middle of a major refurbishment to transform it into a workshop.
It is part of plans to attract graduates to the area and regenerate the town.
Vanilla Ink jewellery school, which was founded in Dundee in 2009 before moving to Glasgow four years ago, wants to turn the once dilapidated building into a "centre of excellence" for silversmiths.
Kate Clifford, founding director of the business, said they will attempt to bring the trade back.
She said: "The Smiddy will be a centre of excellence for silversmithing and jewellery, providing access to tools, space, equipment and skills.
"It will be a destination to learn, reflect and teach traditional skills in a creative and open space. It will open up the story of silversmithing particularly in Banff, bringing back the craft that was once prevalent in its community many years ago.
"Banff once had its own assay-mark craftsmanship and was home to 24 silversmiths spanning over 200 years until the 1800s.
"We want to ensure this story is told and that Banff silver will continue to be sought after and desired."
The new venture will provide training for the next generation of north-east silversmiths and also create two new jobs.
It is also hoped the Smiddy can contribute to wider efforts to regenerate Banff.
Mrs Clifford said: "People will be able to come in, pick up a hammer and whack a piece of metal and understand the joy of making something with your hands.
"We hope to see a rise in visitation to the beautiful area, drawing people to Banff locally, nationally and internationally.
"What we would really love is for some to settle in the area and build their business in the town and make something of their skills and what the area has to offer."
The Meal House on Bridge Street, Banff, is a B-listed building and was on the Buildings at Risk register.
More than £300,000 is being ploughed into the project and it is hoped the new silversmith studio will open in September.