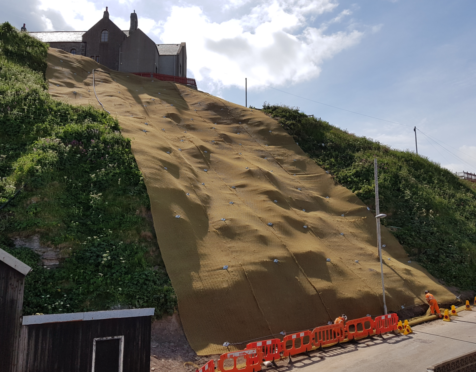 The first major step in repairing a landslip which has blighted a north-east coastal village for months has been completed.
Gardenstown was struck by a landslip last year and Harbour Road was closed in the aftermath, cutting off residents in the lower half of the village.
Work to temporarily secure the crumbling cliff face has been ongoing since April and the first stage of the process has finally been finished.
This involved removing a brick wall and then covering about 13,000 sq ft of the cliff surface with 120 soil nails and mesh to stabilise the landslip.
Foliage has already started to grow on the site and hundreds of poppy seeds have also been planted by the local heritage centre.
Troup councillor Hamish Partridge welcomed the news that the repairs had progressed in time for the height of the mid-summer tourist season.
He said: "It's fantastic that we have now reached this point, it brings normality back to the village after months of disruption just in time for summer, meaning Gardenstown benefits greatly from tourism.
"But most importantly, it allows the local people to get back to normal and get on with their lives."
Earlier this month, the Scottish Government rejected calls to help fund a £2million long-term repair project in the village and nearby Crovie, which was also affected by a land slip around the same time.
The authority has confirmed it will continue to monitor the situation at the cliffs and will carry out further stabilisation if necessary.
Philip McKay, head of landscape services, said: "I am pleased to see that the initial work to stabilise the landslip has been completed."
"A great deal of work has gone into this phase of the works. Thank you to all the staff and contractors who worked on the project.
"Also, thank you to the residents of Gardenstown for their patience whilst the work has been underway."