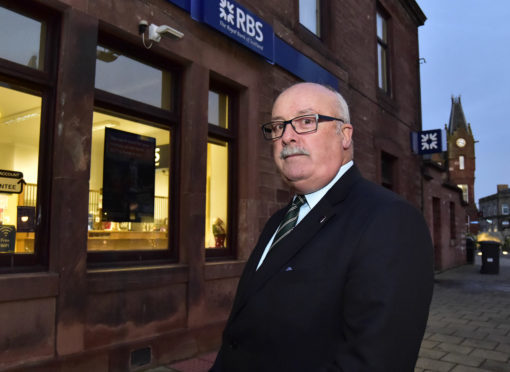 Royal Bank of Scotland cut its ties to another north-east town yesterday as bosses pressed on with their much-criticised nationwide closure program.
Staff at the bank's branch in the centre of Turriff locked its doors for the final time and bid farewell to customers.
They did so with sorrow after the efforts of local activists and The Press and Journal's Save Our Banks campaign failed to secure it a stay of execution.
Bosses claimed the branch had become unprofitable as more and more customers turned to online banking – the same reasoning that saw the Banff branch close.
RBS slammed for plans to offer Turriff residents banking facilities for just 45 minutes a week
Last night, workmen arrived to strip the RBS branding from the building and to white-out all of the windows.
One member of staff has accepted voluntary redundancy.
Customers leaving the High Street branch for the final time were highly critical of the bank's decision to see the closure through.
Patrick Shirran, 73, from Turriff is now trying to switch banks, He said the closure was "an inconvenience".
He said: "I was saying to the staff that it is disappointing they are closing.
"I am in the middle of trying to change banks.
"It is an inconvenience. I know there is a mobile banking van coming but what if I can't get there?"
Valerie Powell, 77, said it was "terrible" that the bank was leaving the town.
She said: "It is terrible that all of these kinds of services are closing especially because we are increasingly forced to do online banking and not everyone can do it."
Another customer, who asked not to be named, said: "My account has transferred to the New Deer branch.
"I am planning to do more banking online, but the only problem with that is you don't get out of the house as much.
"I will miss the branch and its staff as I've been coming here for years."
Marj Chalmers, chairwoman of Turriff Business Association (TBA), had been working alongside town councillor Alastair Forsyth in an attempt to persuade RBS to think again about the closure.
She said: "We lodged our petition but in the end it made no difference.
"It is an inconvenience having it close because RBS will keep some customers, but we will lose trade.
"Hopefully the other banks in Turriff will come together to make sure there are not any further closures.
"It is a shame for the staff because they have been there for a few years and they will know the customers."
A Royal Bank of Scotland spokesman said: "We understand closing a branch can be difficult for some customers and colleagues who work in these branches.
"It's not an easy decision. We have listened to customers, colleagues, communities and elected representatives and we have engaged and responded.
"The way our customers are banking is changing and it is important that we respond to that change.
"In the six months since we announced the closure of this branch, colleagues have engaged with the local community.
"We recognise that every customer will have different banking needs and we are committed to ensuring all our customers receive the best possible service."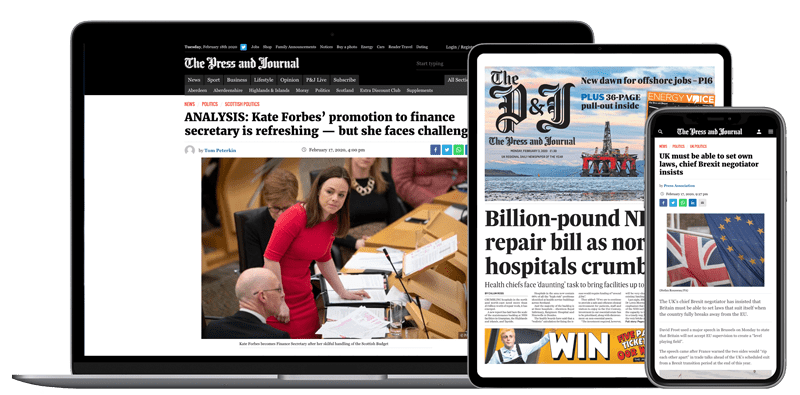 Help support quality local journalism … become a digital subscriber to The Press and Journal
For as little as £5.99 a month you can access all of our content, including Premium articles.
Subscribe