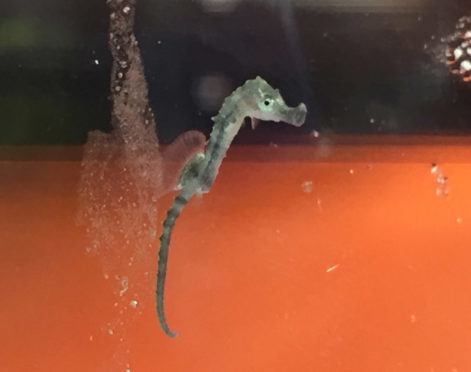 A first-time father has given birth to 100 babies.
Macduff Marine Aquarium's male spiny seahorse had his fry, the collective term for baby seahorses, at the weekend.
The baby hippocampus guttulatus are native to UK waters but breeding in captivity has been relatively unsuccessful so far.
In the wild, the survival rate for these 6mm babies sees only one in 2,000 making it to adulthood.
Their dad came to Macduff in 2016 from Portugal along with two females.
Aquarium staff are, however, unsure which female is the fry's mother.
Display officer Chris Rowe said: "We hadn't seen any obvious courting behaviour so were somewhat surprised to see our male getting fatter – he was either pregnant or eating way too much shrimp.
"Of the two females, we have no idea which one is the mother.
"The babies arrived during the night after about three weeks in dad's brood pouch.
"This is a first for us here at Macduff and we're very excited – but the fry of this species are notoriously difficult to keep alive as they have very specific feeding requirements so it's a big challenge."
Baby seahorses take around six months to reach adult size.
The father is back on display to the public, where it is thought he will be likely to fall pregnant again, while the babies are being kept in the quarantine area.
Visitors can see the babies on the "Behind the Scenes" tour on Tuesdays and Thursdays for an additional £2.50 charge while the babies are still alive.