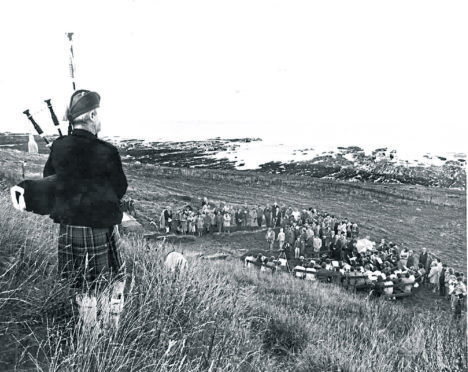 The family of a north-east woman who carried out a daring North Sea rescue will mark the centenary of her death next month.
Jane Whyte risked her own life to save those of 15 sailors who became stranded off Aberdour Bay in October 1844.
The men were onboard The William Hope when it suffered engine failure and began drifting towards rocks.
Mrs Whyte was walking along the shoreline when she spotted the stricken steamer, and immediately sprung into action – wading into the sea and making a lifeline out of rope to help the men onboard reach dry land.
Tribute to Aberdeenshire heroine who waded into North Sea to save sailors
Mrs Whyte was given a silver medal and £10 for her bravery.
Now her relatives are hoping to keep the story alive and will mark the centenary of her death.
They will also unveil a series of interpretation boards which tell the Mrs Whyte's remarkable story.
The event is being held at the ruins of her house at New Aberdour beach, where the boards will be unveiled.
As well as family members, the RNLI and sea cadets will gather on the sands to mark the 100 years since her death.
Her great-great grandson Robbie Kelman is leading efforts to keep the tale alive for future generations.
He has even written a song celebrating his relative's heroic actions.
Mr Kelman said: "Jane Whyte was my great-great grandmother and she was a very courageous and kind lady.
"Her heroics were widely published in the press at the time but sadly have gone mostly unnoticed in recent years.
"Together with other members of the family and the initiative of New Aberdour, Pennan and Tyrie Community Council, we want to establish a permanent exhibition in the Fraserburgh Heritage Centre to recount her incredible story to a new generation of visitors.
"She was a very forward thinking mother of nine children when the incident happened."
The memorial event will be held at New Aberdour beach on Saturday, August 11 at 3pm.