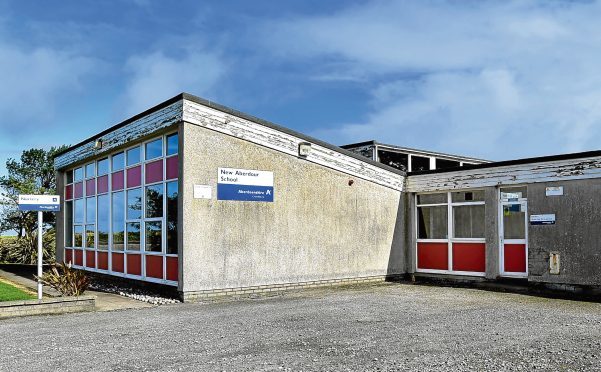 A former north-east school that closed its doors to pupils nearly a decade ago has been put up for sale.
The bell at New Aberdour Primary rang for the final time in 2009 after it emerged the cost of providing education at the facility was too high.
The price was £23,254 a head, more than £19,000 above the average figure at the time. Council bosses decided there were too few pupils and ordered its closure in July that year. The remaining seven pupils were moved to Rosehearty.
Aberdeenshire Council has now moved to sell off the school and suggested the site could be ideal for constructing new homes.
The building is rented out by community groups who use it for meetings and events. New Aberdour, Tyrie and Pennan Community Council is one of the organisations who regularly gather at the defunct school.
They are hoping to move into the village's community hall. Last night, chairman Bill Pitt said they only found out about the sale this week.
He said: "We only just learned it was going up for sale a couple of days ago. We haven't even met yet to discuss what our plans are, but we are hopeful it will work out and optimistic the discussions with the council will be positive.
"Our community council has a lot of issues that we work on and it is only right the venue is fit for purpose."
An Aberdeenshire Council document, which is going out to potential buyers, claims the three classrooms and car park "lends itself" to being transformed into a residential project. It said: "The property is a former primary school believed to have been built circa 1960. It is situated on the north side of Elphin Street, occupying a central location within the village. The surrounding area is predominantly residential in nature.
"Internally, the property is configured to provide three classroom areas with staff ancillary, stores and toilet facilities. It is considered the site lends itself to residential redevelopment."
Last night, an Aberdeenshire Council spokesman said: "The former New Aberdour Primary ceased to be used as a school in 2009.
"Although it has since been used by community groups infrequently, we are keen for this substantial building in the heart of the village to be brought back into optimal use.
"Interested parties should inform the council's estates manager in writing to Aberdeenshire Council, Woodhill House, Westburn Road, Aberdeen, AB16 5GB or by calling 01467 536116."