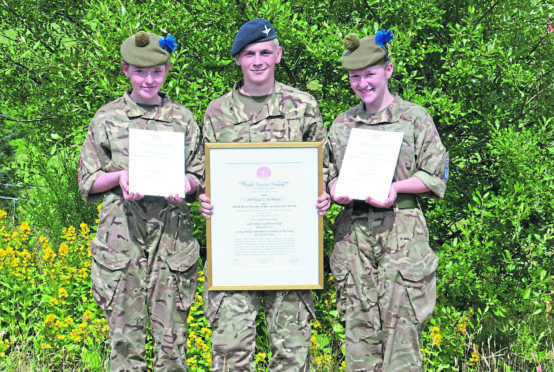 Three Army cadets who tried to save the life of a man after he plunged into a north-east harbour have been honoured.
Jordan Anderson dived into the icy water at Macduff Harbour last July and managed to put a lifebelt round Darren Paxton before dragging him ashore to waiting paramedics.
Meanwhile, sisters Katlyn and Shannon Wilson used their first-aid training to look after his partner, who was in shock.
Mr Paxton died in hospital the next day.
However, the youngsters were praised for giving him the best possible chance of survival.
Yesterday, at a ceremony held at their summer training camp at Garelochhead, the teenage trio were handed awards from the Royal Humane Society.
Jordan, 16, received an honorary testimonial on velum.
Katlyn, 16, and Shannon, 14, picked up certificates of commendation.
Last night Jordan said he was "overwhelmed" by the award and the attention he has received over the last year.
He said: "I would not call myself a hero, but just someone who tried to save a life.
"At the time I was just thinking 'get him out of the water' and I just did what anyone else would do," he added.
"The whole thing has been surprising and overwhelming."
Katlyn said she also did not consider herself as doing anything heroic and said she just used her first-aid training.
And Shannon added: "I feel so proud of myself.
"I am just so thankful that I did something good," she added.
Iona Robertson from Portsoy was also honoured after carrying out first-aid on a member of the village's community council, who suffered a suspected heart attack, last December.
The 17-year-old was presented with the Army Cadet Association's certificate of praiseworthy first aid.
Colonel Scott Dunn, commander of the 2nd Battalion the Highlanders Army Cadet Force, praised all four youngsters for their actions.
He said: "The Army Cadet Force is a youth organisation run by volunteers whose aim is to help our young people reach their potential by supporting them as they progress through achievable and challenging varied programmes of training.
"We aim to instil a sense of fun, achievement and responsibility in our cadets so I am delighted, but not surprised, that our cadets stepped forward to 'do the right thing'.
"In each case the cadets showed courage and calmness as well as using skills they learned in the ACF."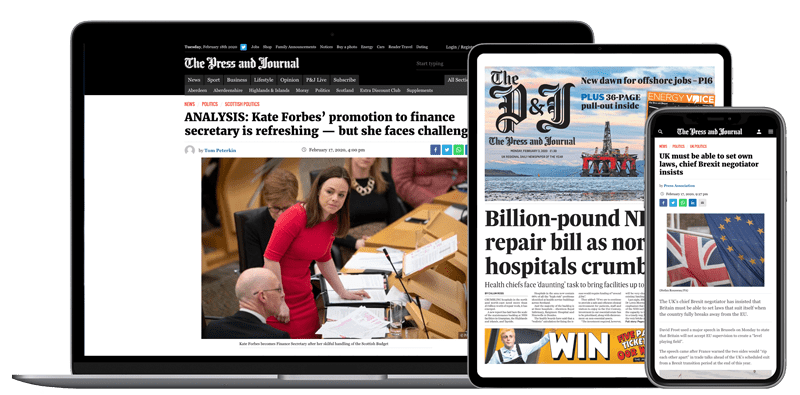 Help support quality local journalism … become a digital subscriber to The Press and Journal
For as little as £5.99 a month you can access all of our content, including Premium articles.
Subscribe