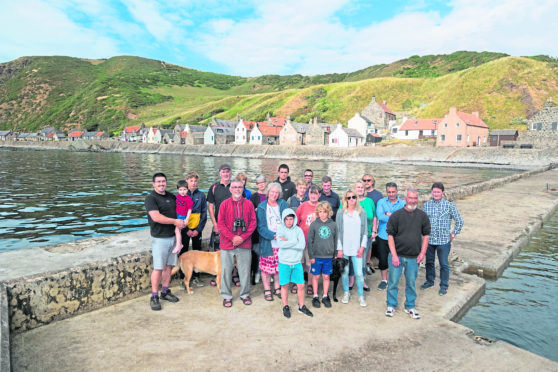 Residents in a small north-east village who were told their only road access to the outside world would be reopened months ago have expressed anger at how they are still stranded.
Locals in Crovie are frustrated with Aberdeenshire Council, who closed the road last September following a landslide, and have subsequently failed to begin work to reopen the road.
The cliff-side village, which runs along the edge of the North Sea, has been cut off from the surrounding area with the only access either by foot along a privately-owned track or by scaling the 84 steep steps up the rock face.
Arrangements for a quad and trailer to be used to transport large and bulky items down the hill were made by the council in June.
The community was told work would begin on May 28, then July 16 and now July 30, but the community thinks this is too little too late.
And they are now demanding an inquiry is held into the delay.
Shona Stuart shared her fears with the Sunday Post and said: "We feel we have been cut off from safe access.
"Tradesmen needed for essential repairs are also refusing to come and, with no access to the main car park at the bottom of the cliff, the only place to park is in the overspill area at the top which is full.
"Tourists are driving away. People here work hard to preserve this village. It is scandalous.
"We need an independent inquiry as to why it's taken so long to repair the road."
Award-winning seaplane and air race pilot Hamish Mitchell agreed, telling the Sunday Post: "The road closure is a disaster."
He landed his sea plane in the bay for the first time last week with supplies of "emergency teabags".
Neighbouring village Gardenstown also faced road closures after the land slip but their road reopened in April.
Aberdeenshire Council's head of roads Philip McKay described the "unavoidable" delay as "unfortunate".
He said: "The design of the stabilisation and drainage works for the road and the slope below proved more complex than anticipated.
"Work is expected to start in early August, with the road reopening to traffic in mid-November.
"We have attempted to mitigate the effects of the closure on residents and businesses and will continue to do so."