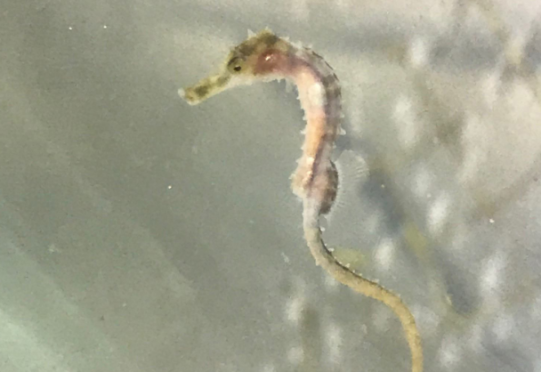 A group of seahorse babies, who were born in the north-east, have beaten the odds of survival by turning one month old.
Macduff Marine Aquarium officials were delighted when the male hippocampus guttulatus gave birth to over 100 offspring last month.
Eight of the fry, the collective term for baby seahorses, have survived despite previous captive breeding being unsuccessful due to their specific feeding requirements.
Even in the wild, only one in every 2,000 babies makes it to adulthood, which they reach in a six-month period.
The brood, who came into the world sometime on the weekend of June 24, were the first of their kind in Macduff and measured a mere 6mm.
Although the eight sea horses have survived this long, there's still a few hurdles they have to overcome before reaching adulthood.
Chris Rowe, aquarium displays officer said: "We're delighted to have managed to keep eight baby seahorses alive for their first month.
"They have grown to about 3cm long and have been doing really well.
"This is now a critical stage for them as we need to wean the babies off the tiny plankton they have been eating and onto larger food.
"There are still no guarantees any of them will survive to adulthood, but we are pleased with progress so far and are cautiously optimistic for these little ones."
Their father is now expecting another fry which it is hoped will arrive within the next two to three weeks.