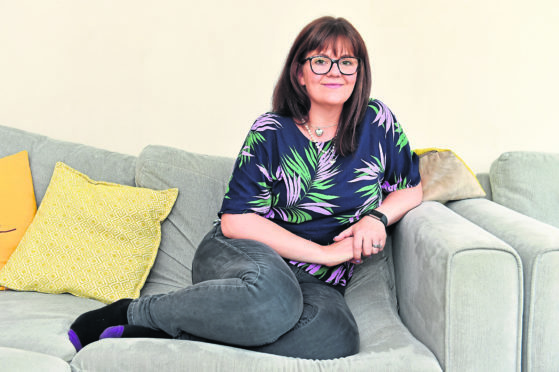 An Aberdeenshire mother, who has written about the psychological pain of losing a baby during pregnancy, is hoping to break the taboo surrounding miscarriages.
Kirstie Langan, who lives in Blackburn with her husband and two young boys, wrote blog posts "My Worst Week" and "Miscarriage – private or shameful?" after her miscarriage in July.
Mrs Langan, who grew up in the Turriff area, hopes that speaking about her experience will help others realise they are not alone.
She said: "Online, there are a lack of personal accounts and it's really hard. Miscarriage is common, but because no one talks about it, you can't help blaming yourself and obsess over what went wrong.
"I'd been at work, and noticed an absolutely tiny amount of blood and immediately knew something was wrong.
"After a scan confirmed it, I had to have a second scan and they told me all of my options.
"I opted for surgery as I didn't feel I was able to go through what's essentially a labour with such a tragic ending.
"The midwives were great, I can't fault any of the care given to us, but the physical side was the easier part.
"The hardest thing was going into the maternity hospital, seeing babies and knowing that when you leave you will be leaving without a baby.
"The day after I left hospital, I felt lost and decided to write about it."
Figures show that one in four pregnancies end in miscarriage, with 70% of women feeling guilty about what happened.
Midwives recommended the Miscarriage Information Support Service in Aberdeen to Mrs Langan, but she found sharing her experience had helped her cope.
Mrs Langan said: "Writing it down just made me feel so much better – and going back to work and not keeping it a secret – but that's how people treat it, like a secret.
"I was nervous sharing my writing, but immediately I got lovely messages of support and people telling me their experiences and giving advice on what helped them.
"For three months, I had imagined my family with three children.
"It's not going to go away, but having support and not having the burden of a heart-breaking secret has really helped me and made this more manageable than I had imagined.
"I don't know how I would've gone on if I had been keeping this a big secret."
The Miscarriage Information Support Service (MISS) is a local support group open to those who have suffered loss.
MISS welcomes women and their partners who are dealing with or have experienced a miscarriage or loss to come to monthly meetings.
The group meets in Danestone Community Centre on the first Thursday of every month.
Founder Abi Clarke said: "Each session has an introduction about the group, a speaker with a health background and an activity to break the ice and give people something to do in the weeks without meetings.
"It gives people a chance to speak, not necessarily about miscarriages, but knowing everyone there has been in a similar situation.
"We have a Facebook group anyone can join which is a good way of getting in touch for information, advice or some where to speak if you're feeling rubbish."
The group is hosting a fashion show at the Marcliffe on November 16 to raise funds and pamper the models who have suffered a loss to regain their confidence.
Mrs Clarke said: "I had a miscarriage and thought there was a lack of support in the area, so wanted to create a place people could go to speak.
"It's a taboo subject, but these sessions help people understand there are lots of others going through a very similar thing."