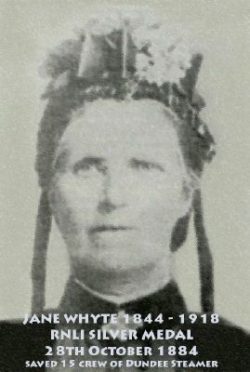 An appeal has been launched to track down the descendants of sailors who were rescued by a north-east heroine.
Jane Whyte put her own life at risk, wading into the North Sea in the teeth of a storm to save 15 seamen who had become stranded off Aberdour Bay in October 1844.
They were onboard The William Hope when its engine failed and its anchor cable then snapped, leaving the vessel drifting towards rocks.
Mrs Whyte was walking along the sand when she spotted the stricken steamer before wading into the seas and making a lifeline out of rope which she used to help the men reach safety.
She received the silver medal from the RNLI, along with a £10 reward, and there is a plaque on the site of her old cottage at Waulkmill to mark her bravery.
Now her relatives want to track down the descendants of those who were rescued from the icy North Sea 134 years ago.
Her great-great grandson Robbie Kelman has discovered a newspaper clipping with a letter from two on those who were on the ill-fated ship that day.
Alexander Beaton and Donald Davidson wrote a the month after the incident to back up Mrs Whyte's version of events.
It said: "Mrs Whyte was the first to come to our assistance and ran into the water to get hold of the rope thrown to her by Donald Davidson.
"She took the rope around her waist and held firmly on it till Donald Davidson got on shore by that rope."
Mr Kelman has issued an appeal to the relatives of Mr Beaton and Mr Davidson to come forward and join their commemorations this weekend, which mark the 100th anniversary of Mrs Whyte's passing.
He believes the men who wrote the letter were actually from Moray, having previously searched for clues about the sailors in Dundee.
Mr Kelman said: "They must be out there somewhere.
"Because it was a Dundee-registered ship we thought all of the sailors were in Dundee, but now it seems they from Burghead.
"If we can find their descendants before the commemoration on Saturday it would be quite emotional."
An event marking the centenary of Mrs Whyte's death and the unveiling of new interpretation boards telling the story of the dramatic rescue will be unveiled at New Aberdour beach on Saturday afternoon.
Anyone with information is asked to contact Mr Kelman on robbiekelman2@gmail.com.