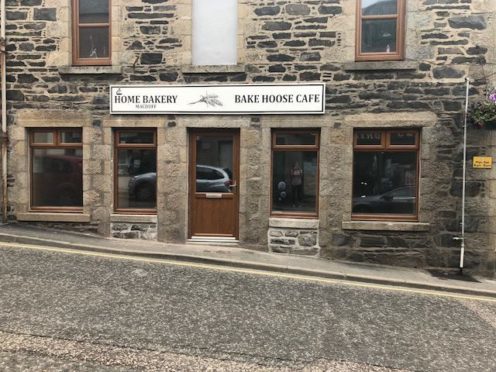 A bakery that served a north-east community for almost a century before closing its doors is to reopen.
Home Bakery in Duff Street, Macduff is currently undergoing a major refurbishment so it is ready in time to welcome its first customers next month.
As well as making rolls, butteries and cakes in its brand new ovens it will also have a cafe.
It was previously known as Duguid Bakers, and ceased trading after nearly 100 years in 2015 when owners Jim and Stella Duguid retired.
The couple will still have a key part in the new venture, as their beloved recipes will still be used.
The bakery has been bought by local businessman Hamish McLeay, who has appointed Jack McGregor as the bakehouse manager.
Mr McGregor said: "The previous owner has been in helping us and is going to help out when we get started again.
"We wanted to keep him involved and we're still going to be using his recipes.
"We want the community to come back and see that there's a baker.
"It is about giving something back to Macduff.
"The bakery is a business, but it is a lot more. We're all local and want to give something back to the town."
Last night, local councillors said it is "absolutely brilliant" that the building was being used for its original purpose once again.
Councillor Mark Findlater said: "It is absolutely brilliant for Macduff that the bakery is going to open again.
"I think it's going to be a better thing as there is a café=e this time.
"Hamish McLeay has done a wonderful job and the community is 100% behind him in this project.
"The bakery in the past was extremely busy and was one of the focal points of Macduff which was very well used by folk from the harbour and the general public.
"Everyone has been talking about this and is very excited."
Banff councillor John Cox said it would provide the coastal community with a "boost".
He said: "It is absolutely great news to see any business open in Macduff and this will benefit the town.
"We've seen such a decline in retail space for small independent stores and to see this being brought back to life is fantastic.
"I can't wait to try the new products and I'm sure it will be a boost for Macduff.
"There will be additional benefit for nearby shops as well."