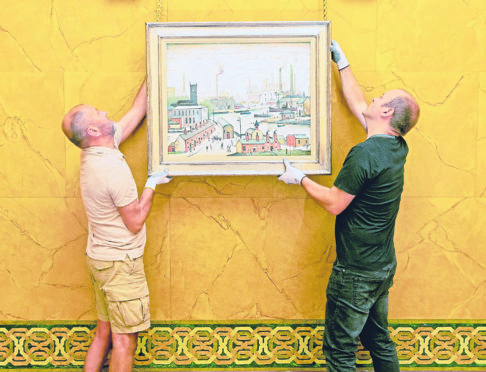 A masterpiece by matchstick men artist LS Lowry has gone on display in the north-east.
Canal and Factories depicts the mills and smoking chimneys of the industrial towns of Runcorn and Widnes on the river Mersey.
The scene was painted in 1955 and features Lowry's iconic depictions of busy crowds outside nearby homes.
The artwork is now on display at Duff House in Banff after being loaned from the National Galleries Scotland as part of their masterpiece series and it will remain at the Georgian mansion until May 13 next year.
Corinna Leenen, collections manager at Duff House, said there was significant excitement that the venue was showcasing Lowry's work.
She said: "We are delighted to host this masterpiece from the National Galleries of Scotland here at Duff House.
"Canal and Factories is a fine example of the industrial cityscapes Lowry painted throughout his career and is sure to attract many visitors to see this work of Britain's preeminent painter of industrial life.
"Its new setting allows visitors to compare two worlds: the splendour of Duff House and grand manner style of 18th century painting and Lowry's hard-edged record of the life of the early twentieth century British working class."
Christopher Breward, director of collection and research at National Galleries of Scotland, said: "We are delighted to bring Lowry's evocative scene to Duff House as part of our ongoing commitment to open up the collection to new audiences across Scotland and beyond.
"Painted in 1955, Canal and Factories is a wonderful example of the artist's unique view of life in the industrial city."
While LS Lowry is best known for his depictions of working class life and industrial scenes in his native north-west England, he visited Caithness in the 1930s and created two pieces.
Street Musicians, a painting featuring his trademark matchstick men, shows Shore Street in Thurso and sold at auction for £842,500 in March 2014.
In November 2013, Steps at Wick, which shows the Black Stairs in Wick's Pulteneytown area, went under the hammer for £900,000.