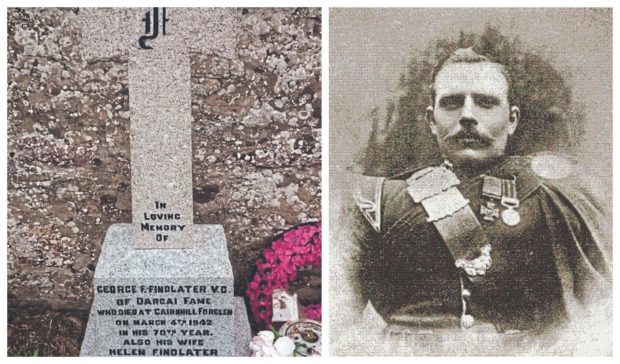 The gravestone of a Scottish soldier awarded the Victoria Cross has been restored thanks to the efforts of a north-east community council.
Members of the Alvah and Forglen Community Council funded the cleaning and restore the letters on Sergeant George Frederick Findlater's gravestone in Forglen Cemetry.
Turriff born Sgt Findlater was awarded Britain's highest award for gallantry, the Victoria Cross, for his role in the Tirah Campaign, an Indian frontier war.
He was shot in the ankles playing the pipes in the Gordon Highlanders at the Battle of Dargai Heights, on October 20, 1897.
Despite being unable to walk and being exposed to enemy fire, he leaned on a rock and continued to play his bagpipes in the hope of encouraging the charge.
Following the battalion's success, Major-General Yeatman-Biggs recommended Sgt Findlater for the award.
He was sent home as an invalid and then became a farmer in Forglen until he died from a heart attack in 1942.
Mr Findlater was named a public hero and is only one of 1,355 men to be awarded the VC since 1857.
His gravestone, located three-quarters of the way along the east wall of the cemetery, had deteriorated over the years.
Alvah and Forglen Community Council funded the cleaning of the grave in the belief that heritage in the area should be maintained.
Secretary Jim Bayne said: "We believed it was appropriate that the grave of a famous local war hero should be kept in good condition.
"It should help local people be aware of their history.
"There's a fair bit of history here and to let the stone deteriorate is a shame but people just forget.
"It started with some of the Gordon Highlanders asking if we would fund the restoration so we did.
"People think of the Gordon Highlander being from Aberdeen and not from Aberdeenshire but there was a lot of people joined from here who are part of the Gordon Highlander history."
Forglen Hall has a plaque on display dedicated to Sgt Findlater as well as memorabilia.
Mr Bayne said: "We're hoping, along with the signs the council have agreed to make to better sign post the cemetery, that people will come and explore our heritage.
"It's to mark that we had someone here awarded the VC which is the kind of stuff that happens in movies – it's quite romantic actually, a Scots man playing the pipes being given such a great award."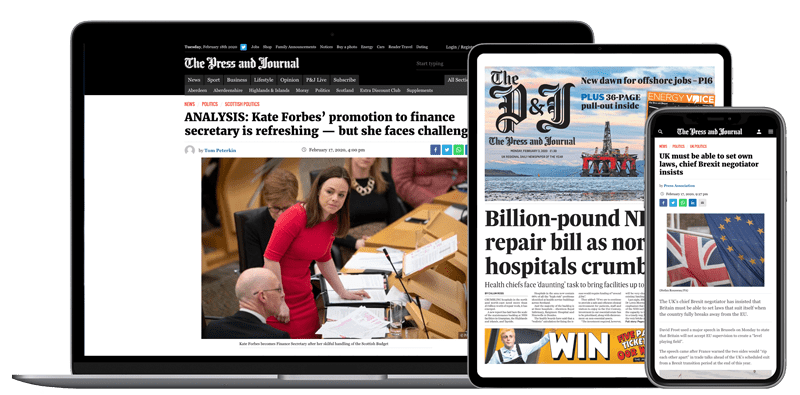 Help support quality local journalism … become a digital subscriber to The Press and Journal
For as little as £5.99 a month you can access all of our content, including Premium articles.
Subscribe