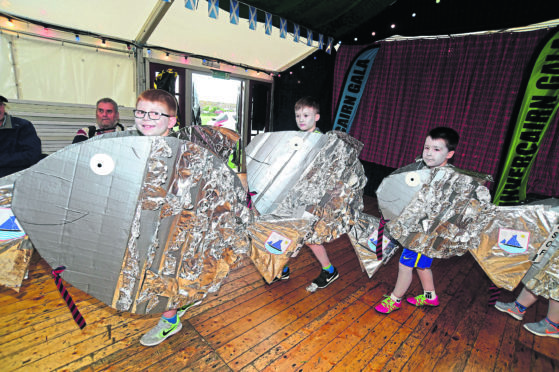 A gala in the north-east has been recognised for donating a six-figure sum to local charities over the last two decades.
The Invercairn Gala, which has just celebrated its 20th anniversary, is hosted annually by the Invercairn Community Support Group, a team of volunteers from neighbouring villages Cairnbulg and Inverallochy.
The week-long event has been a fixture in the local calendar for the past two decades.
During that time, organisers have raised around £200,000 and donated it to local charities.
North East region MSP Peter Chapman has asked his Holyrood colleagues to mark the contribution of the event to local life, and wish it a long future.
Scottish Conservative Mr Chapman said: "The gala is a driving force in the community and has become a fixture in the local calendar.
"It takes a lot of volunteer time to organise, but it's worth it. The fun includes everyone.
"Gala weeks like this are a shining example of how friendly our north-east communities are."
A letter from the Provost of Aberdeen, Barney Crockett, has also recognised the organisers' efforts.
Secretary of the support group Peter Tait said: "We recently received a letter from the provost, saying he had heard of our work and would like us to be nominated for the Queen's award for voluntary service.
"We hadn't heard of it before, but we are now putting a lot of work into getting that.
"It's absolutely outstanding to be recognised like this and it makes easier to come back and do it all again each year."
Money raised from this year's gala, which was held from August 4 to August 11, will be added to the £200,000 total.
Mr Tait added: "We ask local organisations to submit a business case for funding, which everyone has to do, and then we decide professionally where it will go.
"We always keep the money local – everyone in the community who helps can see where the money is going and it's a transparent process.
"The money we've given out over the last 20 years has gone to 60 local organisations, some more than once.
"It ranges from country dancing clubs to schools to harbours to golf club junior lessons – there have been many different ones.
"Three local groups have also received Lottery or EU funding following our support which helped them meet their targets.
"Between 40% and 60% of our profits keep us running, we need a bare minimum of £12,000 to ensure we can provide the essentials and make more money each year.
"We've also been recognised for our standard of licencing application, so we take great pleasure in feedback like this – knowing we must be doing a good job keeps us going."