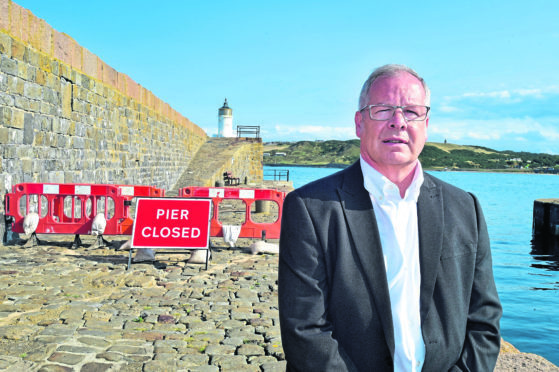 A fishing community has accused the council of neglect over the current state of a historic north-east harbour.
The North Pier at Banff Harbour has been cordoned off by local authority bosses after an inspection found it was "in danger of collapse" if the area was hit by a storm.
Checks carried out by contractors in May found there was a loss of grout and possible movement of the huge stone blocks which make up the quayside.
Repairs were due to begin this month but work has been postponed until specialists can carry out a more "thorough assessment of the integrity of the structure".
The area below the lighthouse has been closed off to ensure public safety.
It's not yet clear how much the repairs will cost and it is now the third section of the harbour with restricted access.
Last year the railway jetty collapsed into the water following a spell of heavy rain. Temporary repairs were carried out and consultants are expected to carry out a site investigation in the autumn.
There are also barriers blocking off the south pier of the harbour with the structure visibly subsiding.
Banff's inner harbour was built in 1775 with its inner pier constructed by Thomas Telford 41 years later. It is mainly used by the owners of yachts and other pleasure crafts but is also where local fishermen berth their boats.
Bruce Gibson works in the Moray Firth catching mackerel and lobster in his Hammond Innes vessel and believes more needs to be done to improve the condition of the quayside.
Mr Gibson said: "I can't understand why something hasn't been done about it.
"The railway pier used to have a wee crane on it for the train coming but it fell into the water.
"This isn't a hobby for me, I'm working out of the harbour. This place is a disaster."
And John Cumming, who runs his fishing boat in his spare time, said he has grown frustrated due to the lack of improvements.
He questioned whether the local authority was doing enough to maintain the harbour for its regular users.
Mr Cumming said: "Somebody isn't doing their job.
"They could've employed somebody to do summer maintenance here.
"They need to start acting. But they won't listen to us."
Banff councillor John Cox said more investment was needed. He said the piers looked "horrendous" but suggested that the money to pay for repairs could come from central government.
Mr Cox said: "What is clearly evident is that these historic harbours need more money to keep them secure from the weather.
"There has clearly been an underspend and this is going to cost significantly more now than of it had been maintained.
"The piers are in a horrendous state. There are three signs up now telling people to keep out.
"The harbour is a key feature of the town and I hope parliamentarians lobby the Scottish and UK governments for funding.
"This is a national treasure and it shouldn't be left to the council to foot the bill."
Last night, a council spokesman admitted that maintaining the harbour was a "challenge".
He said: "Aberdeenshire Council carries out regular structural inspections of its harbour structures and has a planned maintenance programme.
"Maintaining these structures does present a challenge, particularly given the random and dynamic forces which act on these historic structures."
Banff Harbour is not the only port on the Moray Firth to suffer structural issues in recent times.
A gaping hole was left in the harbour wall at Cullen in Moray after it was battered by waves in January.
It left the local authority with a £560,000 repair bill for the 200-year-old B-listed structure.
Earlier this month, work on a £500,000 upgrade at Buckie Harbour began with 150ft of steel sheet pipes be installed to strengthen its north pier.
A spokeswoman for Moray Council said the improvement projects were part of wider redevelopment work taking place at the local authority's ports.
She said: "Moray's six harbours cater for commercial and leisure activity, and this year we're investing over a million pounds in upgrading our harbours.
"We've increased our charges to reflect the improvement in conditions our harbour users will experience."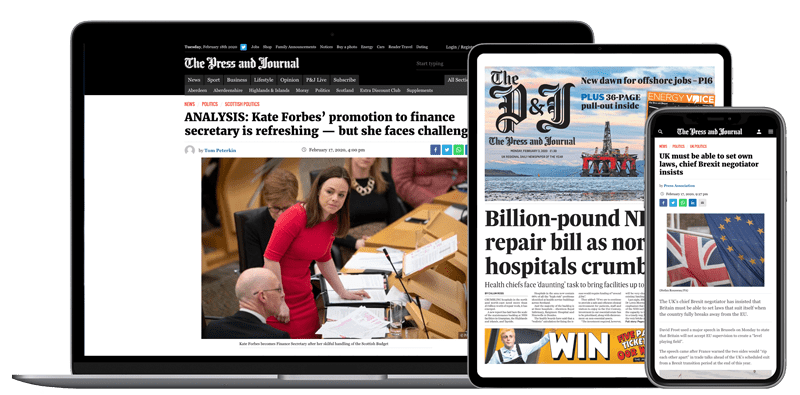 Help support quality local journalism … become a digital subscriber to The Press and Journal
For as little as £5.99 a month you can access all of our content, including Premium articles.
Subscribe