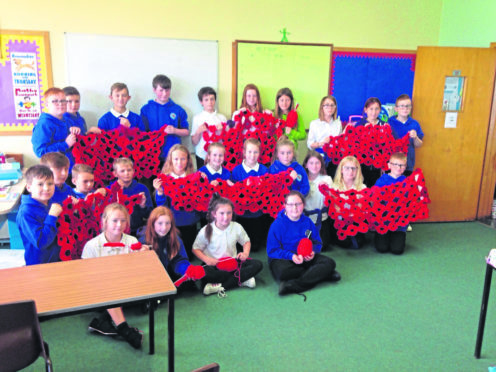 Knitters and crocheters in the north-east have been kept busy creating flowers to commemorate the 100th anniversary of the end of World War 1.
The Macduff Poppy Appeal hopes to decorate village landmarks with cascades of the red flowers to mark the occasion.
And they've been working hard to get as many locals and community groups involved.
Primary seven pupils at Macduff Primary School took part in the project this week as part of one of their class topics on World War I.
Students will also be visiting the Gordon Highlanders Museum in Aberdeen to learn more about the war.
The children have been learning to knit and crochet with wool to make the poppies.
Project coordinator Claire Nicholson said: "I initially got involved because I run a rainbow group and thought about knitting them a poppy badge each – that's 25 poppies.
"Then I was at a meeting to see what we could do with lots of groups together to commemorate the 100 years.
"We decided to keep knitting and I was willing to organise it and now have almost 6,000 in my house.
"Stitchers have come forward and are stitching them into rows of 50 in the hope that we can keep them and put them out on display in years to come.
"We want to drape them on the cross across the road from the church right down, over the grass and under the arch.
"It would be great to see them come out every year."
Miss Nicholson visited the school on Wednesday to explain the initiative to pupils and help encourage them with their knitting.
She said: "We've had a lot of support for this – the primary sevens were great.
"We're using the school as a venue so they can display any art work and community groups can put things up so we give people more information and get a build up for Remembrance Sunday this year.
"There's heaps of people knitting, people I don't even know.
"People have been appearing out of nowhere with poppies, I've even had some from Belgium."
Two drop-off days have been organised for Market Street Hall in Macduff on October 6 and 13 from 11am to 3pm.