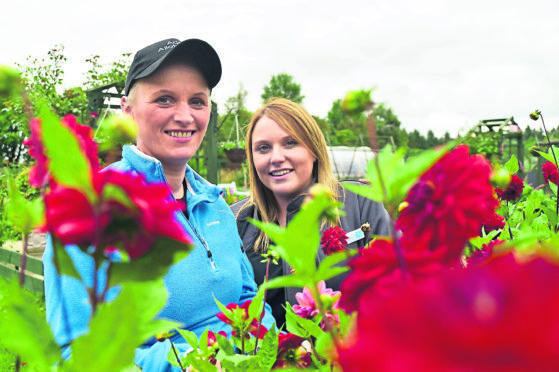 A north-east collection of gardeners, farmers and the owners of a local shop have been raising funds to purchase new lifesaving equipment for their rural area.
The Aden Country Park Allotment group has been raising money at its monthly teas at the park cabin and, coupled with farmer donations and support from Mintlaw Co-op, the members are hoping to purchase defibrillators.
The device costs around £1,000 with the casing unit also racking up several hundreds of pounds.
Chairwoman of the allotments group, Paula Cordiner, revealed they came up with the idea after realising that three men with allotments suffer from heart conditions.
She said: "We're out in the sticks and the nearest defibrillator is the police station, so we thought we should get that.
"My granny had an attack about a month ago and by the time I got to her in Maud, I was asked to get the defibrillator from Maud Mart as they weren't sure an ambulance would make it in time.
"Thankfully, it did but they're a great back-up to have and should be in a lot of places.
"I wrote letters to 54 farmers in our area and many have stepped forward and helped.
"As well as our Tea in the Cabin events, we're doing lots of different things and watching the money mount up.
"We really want the equipment for Aden Park, because the centre is really busy and another beside the railway line, because that's where people like to walk."
As well as the equipment, the group has secured workshops for locals on how to use the machines in an emergency.
Mrs Cordiner added: "We've got a member from the ambulance service who has said he will train us in groups of 12 as many times as we need so that everyone knows how to use them.
"Times of the public sessions will be advertised in the Co-op.
"We usually use the funds we raise for the allotment upkeep, but thought this was good.
"One of the types of defibrillator and secure box costs £1600 although there are a range of prices – it's the casing that's expensive, but we would like to purchase at least two."
Leona Findlay, development officer for the Buchan Development Partnership, said: "We are delighted to be supporting Aden Allotments in their ventures.
"This is a fantastic cause that will benefit the wider community and the fundraisers have put in so much work."
The next Aden Allotment tea fundraising will be held on September 29.