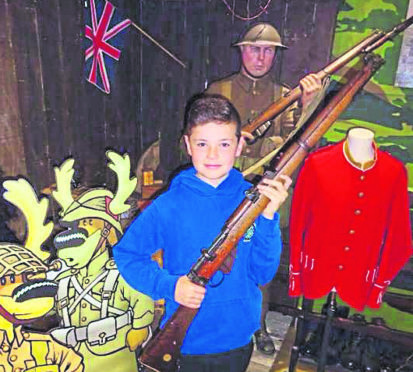 Pupils from the north-east have immersed themselves in learning about the First World War as part of their participation in commemoration events.
Macduff primary seven students visited the Gordon Highlanders Museum in Aberdeen to learn more about wartime life.
The group had the chance to don wartime uniforms, handle weapons and meet three local veterans.
Rab Philip, Jim MacGillivray and Mark Findlater accompanied the class around exhibits and told the youngsters about their own experiences.
The class teacher Gordon Mackay said: "It was a privilege for primary seven to have three veterans join us on our visit to the Gordon Highlanders Museum.
"Rab Philip, Jim MacGillivray and Mark Findlater willingly agreed to accompany us as we found out more about the sacrifices made by so many during WW1.
"Having the veterans with us added so much to the experience, including an order 'barked' from the front of the bus instructing the pupils to sit up straight with their shoulders back – the pupils responded immediately.
"They also shared some of their own personal experiences with the pupils, so we want to thank them for their valuable contributions.
"Macduff School pupils are participating in the community's centenary commemorations through poppy knitting and crocheting, researching someone named on Macduff's War Memorial and studying aspects of the conflict in class and they intend to get further involved as the project moves forward."
The Macduff Poppy Appeal is in full swing, with handmade woollen flowers being sewn together to be draped from the area at the cross down to the anchor.
Project co-ordinator Claire Nicholson had originally suggested the idea for lots of local groups after deciding to knit poppy badges for her Rainbow troop.
She got involved with the school after asking if they would be interested in helping with the venture.
She accompanied the class on their visit to the museum on Wednesday.
Miss Nicholson said: "It was a fantastic day and the children all got involved and seemed genuinely interested.
"It's the first time I have visited the museum, but it certainly will not be the last.
"We're using the school as a venue for our poppies so they can display any relevant art work and community groups can put things up, so we give people more information and build up to Remembrance Sunday this year."
The pattern for the poppies and details of drop-off points are posted on the Macduff Poppy Appeal facebook page.