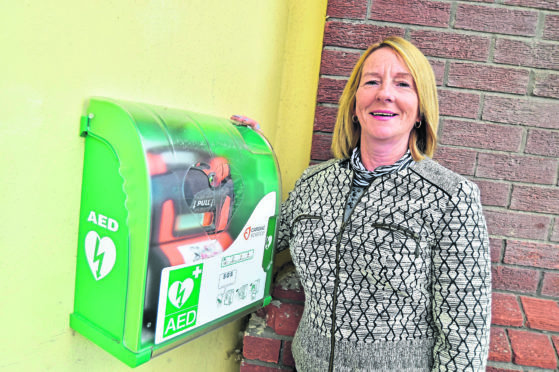 A woman is hoping to increase the number of public access defibrillators around a north-east town.
At the moment, the only life-saving machine in Peterhead can be found in the town's community centre.
It was unveiled last year and its purchase was made possible after a fundraising campaign by the port's running club and donations from locals.
They managed to amass £4,500 and it has been available for use by any member of the public since January 2017.
But now, Carol Gladstone, who is the point of contact for the device on Balmoor Road, is backing efforts to expand the defibrillator network in Peterhead.
Mrs Gladstone is a trained first aider and has said the Buchan town should have around six of the devices rather than just relying on one.
She is also backing fundraising efforts by staff at Buchanhaven Pharmacy to have a defibrillator set up outside the chemist.
Mrs Gladstone, 59, said: "The idea behind is this is about getting as many of these in place as possible.
"Peterhead has a population of around 22,000 people and if we could get a dozen defibrillators, that would be fantastic.
"I think the target is achievable and it is important that more people know the statistics.
"It is important to raise the awareness of everyone in Peterhead."
Mrs Gladstone said she was "passionate" about improving life-saving equipment across the north-east.
She added: "I am employed as a first aid instructor.
"I am very passionate about promoting and ensuring everyone has the best resources available in an emergency.
"One area I know we could improve a person's outcome is during an out of hospital cardiac arrest."
Earlier this month, gardeners, farms and shopkeepers in Mintlaw raised money for two defibrillators in the village.
The Aden Country Park Allotment Group used its monthly teas, combined with farmer donations and support from Mintlaw Co-op, to bring in the money required to buy the devices.
A defibrillator and its secure box costs around £1,600.