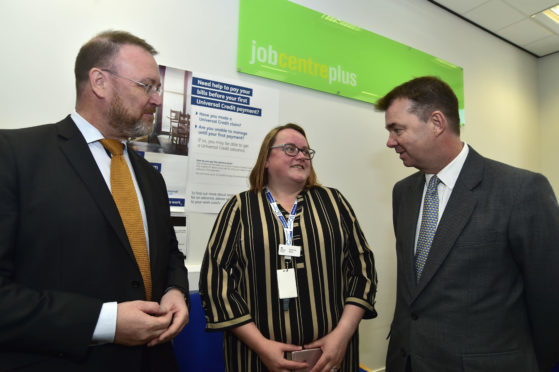 Pensions minister Guy Opperman has been branded "insensitive" for praising the controversial Universal Credit system at a job centre in Banff yesterday.
The MP came under fire after stating that the new benefits system was helping people avoid "falling through the cracks".
Troup councillor Ross Cassie claims the amalgamation of benefits was not working and warned that poverty was increasing.
The SNP councillor said: "Perhaps the minister would have been more gainfully employed had he come with announcements that the women born in the 1950s were to receive the justice of a transition period for having their state pensions taken away with no notice just as they were away to draw it.
---
>> Keep up to date with the latest news with The P&J newsletter
---
"Also, visiting a job centre in the region where the hated Universal Credit has just been unleashed is extremely insensitive to say the least.
"Food bank usage is increasing, debt is increasing, poverty is reaching epidemic levels with 40% of working households not earning sufficient funds to live on.
"Universal Credit is not working and even the Archbishop of Canterbury is joining the loud voice of society and stating it's roll out must stop."
Mr Opperman, the parliamentary under-secretary of state at the Department of Work and Pensions (DWP), spoke to staff at the job centre about the roll out of Universal Credit.
New figures from the House of Commons Library show that 950 people from the Banff and Buchan area claimed benefits in August compared to 1,075 last year.
Mr Opperman said: "The job centre in Banff is a great example of how different services are all integrated into a single location.
"This works so much better for staff and their customers and helps avoid people falling through the cracks.
"Universal Credit is seeing people move into work faster and staying in work longer than under the old system.
"I am pleased to see that in Banff and Buchan, the unemployment rate is just 2.1%."
Speaking after the visit, MP David Duguid said: "The full roll-out of Universal Credit took place in June, and although it is still relatively early days, the implementation is already showing good signs of progress across Banff and Buchan.
"The figures so far suggest that Universal Credit is succeeding in one of its key objectives of helping more people into work."