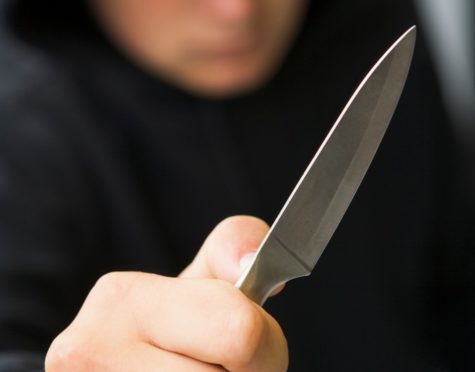 More north-east schoolchildren were found with blades than in any other part of the country last year, the Press and Journal can reveal.
Exclusive new figures show that 26 youngsters in Aberdeen, Aberdeenshire and Moray were caught with weapons ranging from knives, razor blades and scissors in 2017/18.
The detection rates for the police's north-east division equalled those in the Highlands, Lothians and Greater Glasgow totals combined.
Guns, knives and furniture used in daily attacks on teachers
Last night, the force insisted the rate was so high due to the system they have in place with local authorities and schools to crackdown on knife-crime since the death of Aberdeen schoolboy Bailey Gwynne.
---
>> Keep up to date with the latest news with The P&J newsletter
---
But politicians said the figures were still "horrifying" and suggested more must be done to educate young people about the dangers of weapons.
So far this financial year, officers have recorded five incidents of children under the age of 15 being found with blades in the north-east – the same as Tayside and Edinburgh.
According to the figures – which are up to July 31 – no such incidents have been reported or detected in the Highlands.
Of the 126 seizures made across Scotland last year, there were 112 knives, four razor blades, two Stanley blades and even a scalpel.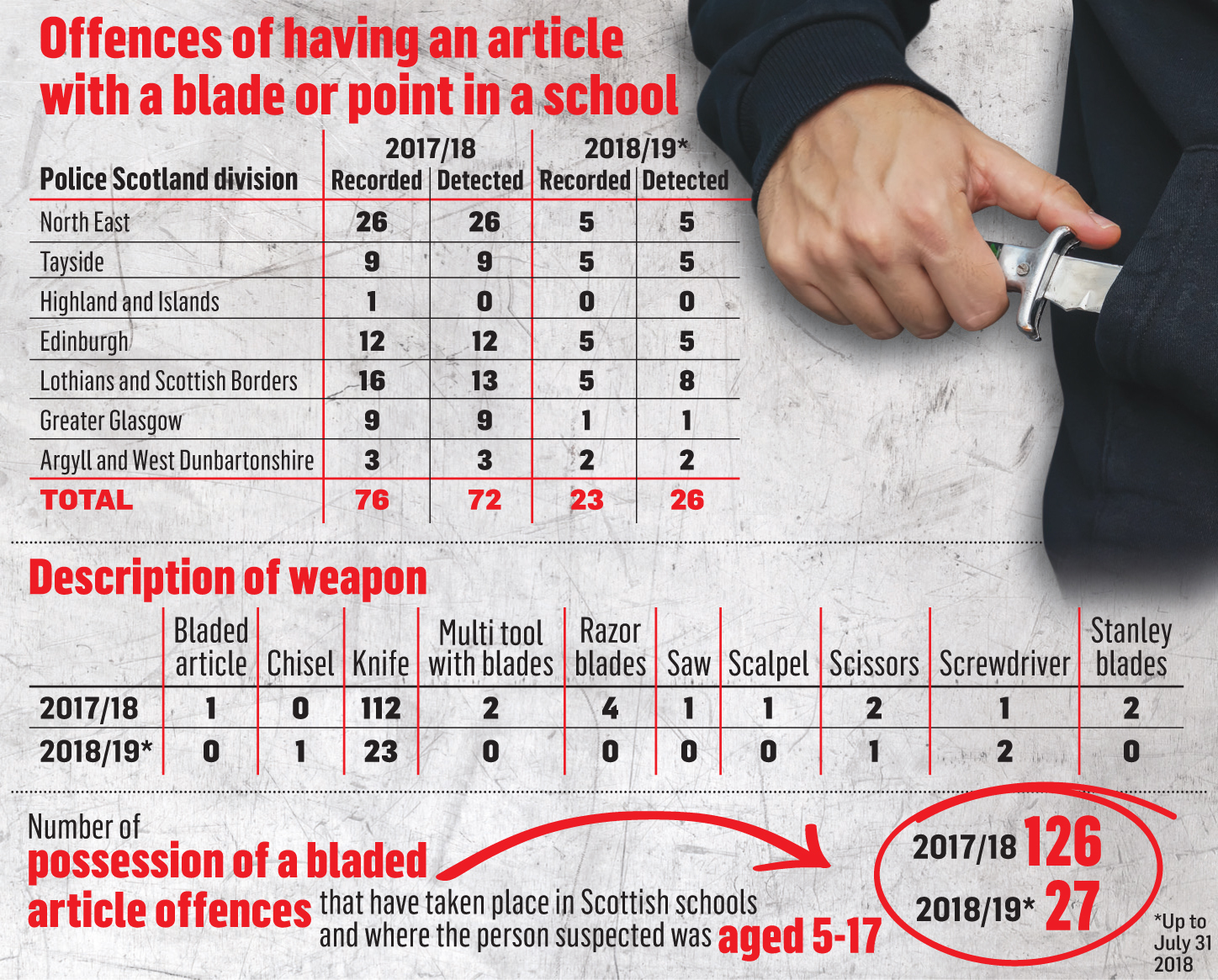 One incident involved a child as young as five, though generally the problem was among those aged between 12 and 15.
The shocking figures emerged just weeks after two incidents at schools in Aberdeenshire.
In the first, an eight-year-old was reported to the youth justice management unit after brandishing a knife at a fellow pupil at Deeside primary.
Another child was reported to the unit for a similar incident at Ellon Primary School.
And earlier this year, an investigation was launched in Moray after a 10-year-old threatened to "shank" children on a school bus. He reportedly got on the bus the next day with a knife, and only got rid of it after another child at the primary school confronted him.
Schools across the region have been on high alert for pupils carrying weapons following the tragic death of Cults Academy pupil Bailey Gwynne two years ago.
Police said the high detection rates were down to the reporting system in place and the close relationship between the force, councils and schools.
Superintendent Ian Thomson, of the Safer Communities unit, said: "North East division has a protocol in place that encourages partnership working between local authorities, schools and police.
"This has resulted in better support mechanisms for pupils and an increased awareness for recording and detection of bladed articles in schools.
"A best practice document has been shared nationally and we will continue to work with our partners to improve our approach to this."
But shadow justice secretary Liam Kerr said that despite the explanation, the "horrifying" figures were "totally unacceptable".
The North East MSP said: "The headline figures here will undoubtedly shock many parents across the north-east.
"The huge disparity with other parts of the country could be due to increased reporting of incidents since the Bailey Gwynne case.
"But that still means there were 26 occasions last year when pupils were caught with bladed weapons in north-east schools – that is totally unacceptable.
"And the fact that children as young as five have taken knives to school is horrifying.
"We must continue to educate our young people – and parents – that knives can kill and there are no circumstances in which it is safe to carry one."
North East Labour MSP Lewis Macdonald added: "These figures confirm that too many
young people are taking knives into school, which in most cases means they are leaving home carrying those knives in the morning.
"Families have to support teachers and school staff by doing everything they can to stop that happening."
Aberdeenshire East SNP MSP Gillian Martin said the figures were "concerning" and it was important for parents to be "vigilant" about bladed weapons.
She said: "It is concerning to note police in the north-east have been dealing with more dangerous items in among teenagers.
"But we should recognise also that a higher detection rate means there has been a clear clampdown by police.
"Parents should be vigilant to their children's behaviour and make sure they are not easily able to get a hold of weapons which could be harmful to their peers. "
Moray MSP Richard Lochhead said the figures were a "cause for real concern" and said educating youngsters about the dangers of knives was vital.
He said: "The number of children in the north-east carrying knives and blades is a cause for real concern and demonstrates that whilst a lot of progress has been made to reduce knife crime
levels nationally, there's still work to do to ensure that young people locally are aware of the dangers and consequences of carrying a knife.
"Education is key and it is incredibly important that the authorities continue to work together to make sure that children understand that carrying knives is totally unacceptable and that there's no excuse for being caught with a blade."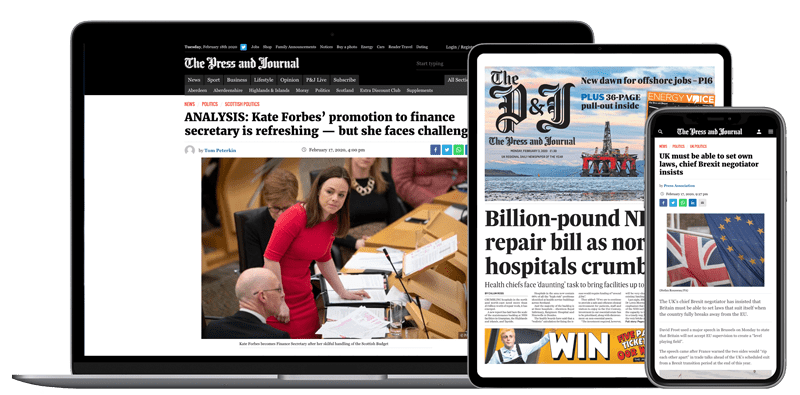 Help support quality local journalism … become a digital subscriber to The Press and Journal
For as little as £5.99 a month you can access all of our content, including Premium articles.
Subscribe