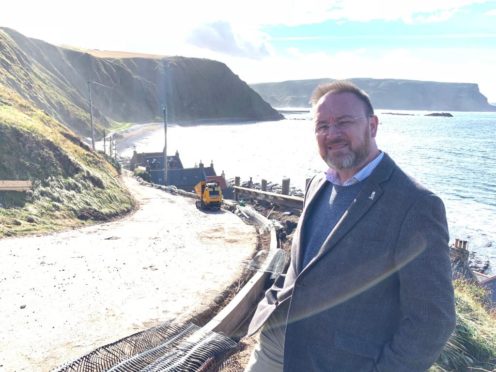 The Scottish Government is being urged to establish a fund to help coastal communities blighted by landslips.
North-east MP David Duguid, the member for Banff and Buchan, feels councils need a helping hand as they battle coastal erosion.
Mr Duguid made his call during a visit to Crovie, where the tiny Aberdeenshire village's access road is being repaired.
It closed a year ago, forcing locals to abandon their vehicles and then enter and exit their homes on foot.
Work to fix the main route into the village began last month and it is hoped the traffic will be able to use it by mid-November.
Aberdeenshire Council brought into specialist firm geotechnical and rope access company Geo-Rope Ltd to fix the landslip. They will use soil nails to repair it as part of the £500,000 project.
---
>> Keep up to date with the latest news with The P&J newsletter
---
Mr Duguid said that while "good progress" is being made, the local authority needed financial support should similar situations arise in the future.
He believes a national fund is only way to help out Crovie and nearby Gardenstown, which battled landslip problems at the start of the year.
Mr Duguid said: "Aberdeenshire Council and its appointed contractors are making good progress in the work to shore up the hillside and the access road to the village.
"It may not have started as quickly as some may have wished, but the most important thing is that the repairs are done properly and will stand the test of time.
"Coastal erosion is a problem all along the Banff and Buchan coast and it is an issue that the authorities must continue to monitor.
"The difficulty for the council is the lack of available funding.
"Responsibility falls to local authorities, but Aberdeenshire is one of the lowest funded in Scotland thanks to an SNP government in Edinburgh that puts the Central Belt first.
"I have called for a national fund to be set up to help coastal communities and I will continue to make that case."
Last night a Scottish Government spokesman said the council will have extra funds available to pay for any other repairs.
He said: "Despite continued UK Government real terms cuts to Scotland's resource budget, we have treated local government very fairly.
"Aberdeenshire Council will receive £454.7 million Scottish Government funding in 2018-19.
"Taken together with the council's decision to increase council tax by 3 per cent, Aberdeenshire Council will have an additional £14.3 million to support day-to-day services compared to 2017-18."
Last night, the council said the works to tackle the landslip should be finished in just over two weeks.
Around 170 soil nails and mesh have been used to pin back the crumbling cliff face and resurfacing and the installation of new drainage systems is nearing completion.
Work had been expected to take between 8 to 10 weeks to complete, but the road will reopen to traffic next month.